NETWORK FINALS:  SEAL TEAM dropped 0.1 in final numbers.
Broadcast Official Nationals Program Ratings Chart  
CABLE HIGHLIGHTS:  VH1's BLACK INK CREW topped Wednesday cable despite a 0.15 drop to 0.53, with BEAUTY BAR down 0.06 to 0.24.  On Discovery, STREET OUTLAWS gained 0.02 to 0.51, and TWIN TURBOS was down 0.05 to 0.26.  ESPN's NBA game was at 0.45.  On TLC, MY 600-LB LIFE ticked up to 0.40, and SKIN TIGHT was also up 0.01 to 0.26.  Food Network's GUY'S GROCERY GAMES rose 0.09 to 0.37.  MSNBC's RACHEL MADDOW SHOW led cable news in the demo at 0.33/0.51/3M, above Fox News's HANNITY at 0.24/0.44/2.9M and CNN's CNN TONIGHT at 0.21/0.28/1M.  On ID, SEE NO EVIL jumped a tenth to 0.33.  TBS's FULL FRONTAL, which aired for an hour, ticked down to 0.32 from last week's half-hour.  On HGTV, PROPERTY BROTHERS fell 0.08 to 0.32, HOUSE HUNTERS INTL lost 0.04 to 0.31 , and HOUSE HUNTERS was down 0.06 to 0.29.  On Syfy, KRYPTON slumped by 0.12 to 0.30, and THE MAGICIANS ticked down to 0.28.  The season premiere of USA's SUITS was at 0.30, down just 0.01 from the early (January) 2017 premiere, and down 0.06 from the July 2017 midseason premiere.  Comedy Central continued its strong week for THE DAILY SHOW with another Top 20 airing at 0.26.  On History, MEN WHO BUILT AMERICA shed 0.04 to 0.24.  A&E's STORAGE WARS was at 0.22/0.22, compared to last week's 0.18/0.17.  On Lifetime, LITTLE WOMEN lost 0.04 to 0.20, and GLAM MASTERS was steady at 0.11.  MTV's FEAR FACTOR was at 0.19/0.15, compared to last week's 0.17.  On Freeform, the season finale of GROWN-ISH dropped 0.03 to 0.17.  E!'s HOLLYWOOD MEDIUM fell 0.05 to 0.15.  FX's THE AMERICANS began its final season in niche fashion with 0.14, down a tenth from the 2017 premiere.  POP's SCHITT'S CREEK lost a tick to 0.07.
Top 50 Original Cable Telecasts with Demographic Detail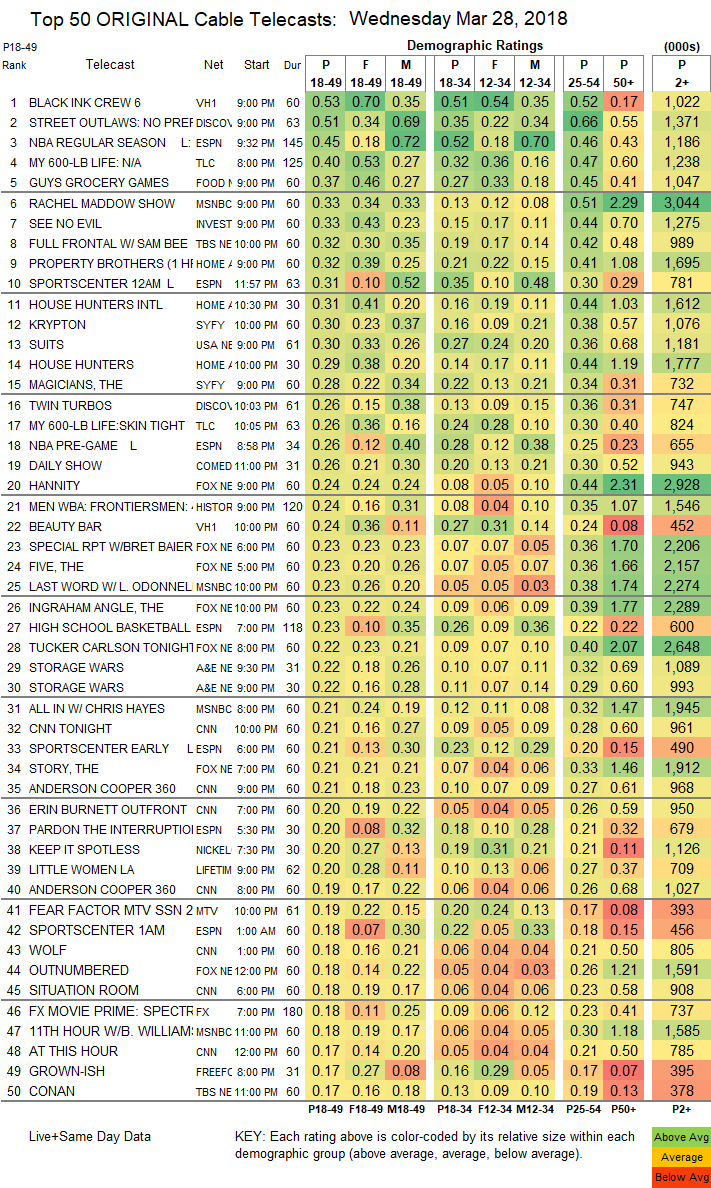 Top 150 Original Cable Telecasts
To search for a show: type Ctrl-F and type your show title in the search box.
Top 150 Original Cable Telecasts: Wednesday March 28, 2018
P18-49
P2+
Rank
Program
Net
Start
Mins
Rating
(000s)
1
BLACK INK CREW 6
VH1
9:00 PM
60
0.53
1,022
2
STREET OUTLAWS: NO PREP
DISCOVERY CHANNEL
9:00 PM
63
0.51
1,371
3
NBA REGULAR SEASON     L: BOSTON/UTAH
ESPN
9:32 PM
145
0.45
1,186
4
MY 600-LB LIFE: N/A
TLC
8:00 PM
125
0.40
1,238
5
GUYS GROCERY GAMES
FOOD NETWORK
9:00 PM
60
0.37
1,047
6
RACHEL MADDOW SHOW
MSNBC
9:00 PM
60
0.33
3,044
7
SEE NO EVIL
INVESTIGATION DISCOVERY
9:00 PM
60
0.33
1,275
8
FULL FRONTAL W/ SAM BEE
TBS NETWORK
10:00 PM
60
0.32
989
9
PROPERTY BROTHERS (1 HR)
HOME AND GARDEN TV
9:00 PM
60
0.32
1,695
10
SPORTSCENTER 12AM  L
ESPN
11:57 PM
63
0.31
781
11
HOUSE HUNTERS INTL
HOME AND GARDEN TV
10:30 PM
30
0.31
1,612
12
KRYPTON
SYFY
10:00 PM
60
0.30
1,076
13
SUITS
USA NETWORK
9:00 PM
61
0.30
1,181
14
HOUSE HUNTERS
HOME AND GARDEN TV
10:00 PM
30
0.29
1,777
15
MAGICIANS, THE
SYFY
9:00 PM
60
0.28
732
16
TWIN TURBOS
DISCOVERY CHANNEL
10:03 PM
61
0.26
747
17
MY 600-LB LIFE:SKIN TIGHT
TLC
10:05 PM
63
0.26
824
18
NBA PRE-GAME    L
ESPN
8:58 PM
34
0.26
655
19
DAILY SHOW
COMEDY CENTRAL
11:00 PM
31
0.26
943
20
HANNITY
FOX NEWS CHANNEL
9:00 PM
60
0.24
2,928
21
MEN WBA: FRONTIERSMEN: 4 EMPIRE OF LIBERTY
HISTORY
9:00 PM
120
0.24
1,546
22
BEAUTY BAR
VH1
10:00 PM
60
0.24
452
23
SPECIAL RPT W/BRET BAIER
FOX NEWS CHANNEL
6:00 PM
60
0.23
2,206
24
FIVE, THE
FOX NEWS CHANNEL
5:00 PM
60
0.23
2,157
25
LAST WORD W/ L. ODONNELL
MSNBC
10:00 PM
60
0.23
2,274
26
INGRAHAM ANGLE, THE
FOX NEWS CHANNEL
10:00 PM
60
0.23
2,289
27
HIGH SCHOOL BASKETBALL  L
ESPN
7:00 PM
118
0.23
600
28
TUCKER CARLSON TONIGHT
FOX NEWS CHANNEL
8:00 PM
60
0.22
2,648
29
STORAGE WARS
A&E NETWORK
9:30 PM
31
0.22
1,089
30
STORAGE WARS
A&E NETWORK
9:00 PM
30
0.22
993
31
ALL IN W/ CHRIS HAYES
MSNBC
8:00 PM
60
0.21
1,945
32
CNN TONIGHT
CNN
10:00 PM
60
0.21
961
33
SPORTSCENTER EARLY      L
ESPN
6:00 PM
60
0.21
490
34
STORY, THE
FOX NEWS CHANNEL
7:00 PM
60
0.21
1,912
35
ANDERSON COOPER 360
CNN
9:00 PM
60
0.21
968
36
ERIN BURNETT OUTFRONT
CNN
7:00 PM
60
0.20
950
37
PARDON THE INTERRUPTION
ESPN
5:30 PM
30
0.20
679
38
KEEP IT SPOTLESS
NICKELODEON
7:30 PM
30
0.20
1,126
39
LITTLE WOMEN LA
LIFETIME TELEVISION
9:00 PM
62
0.20
709
40
ANDERSON COOPER 360
CNN
8:00 PM
60
0.19
1,027
41
FEAR FACTOR MTV SSN 2
MTV
10:00 PM
61
0.19
393
42
SPORTSCENTER 1AM        L
ESPN
1:00 AM
60
0.18
456
43
WOLF
CNN
1:00 PM
60
0.18
805
44
OUTNUMBERED
FOX NEWS CHANNEL
12:00 PM
60
0.18
1,591
45
SITUATION ROOM
CNN
6:00 PM
60
0.18
908
46
FX MOVIE PRIME: SPECTRE
FX
7:00 PM
180
0.18
737
47
11TH HOUR W/B. WILLIAMS
MSNBC
11:00 PM
60
0.18
1,585
48
AT THIS HOUR
CNN
12:00 PM
60
0.17
785
49
GROWN-ISH
FREEFORM
8:00 PM
31
0.17
395
50
CONAN
TBS NETWORK
11:00 PM
60
0.17
378
51
SITUATION ROOM
CNN
5:00 PM
60
0.17
889
52
CNN TONIGHT
CNN
11:00 PM
60
0.17
768
53
CNN NEWSROOM
CNN
2:00 PM
60
0.16
832
54
HARDBALL WITH C. MATTHEWS
MSNBC
7:00 PM
60
0.16
1,549
55
TOP WING
NICKELODEON
12:00 PM
30
0.16
742
56
LEAD WITH JAKE TAPPER
CNN
4:00 PM
60
0.16
895
57
CNN NEWSROOM
CNN
3:00 PM
60
0.16
740
58
EXPEDITION UNKNOWN POPUPS
TRAVEL CHANNEL
9:00 PM
60
0.16
595
59
FOX AND FRIENDS
FOX NEWS CHANNEL
8:00 AM
60
0.16
1,737
60
LEGENDARY LOCATIONS
TRAVEL CHANNEL
10:00 PM
30
0.16
634
61
AROUND THE HORN
ESPN
5:00 PM
30
0.15
505
62
FIRST TAKE   L: N/A
ESPN
10:00 AM
120
0.15
380
63
HOLLYWD MEDIUM
E!
9:00 PM
60
0.15
641
64
OUTNUMBERED OVERTIME
FOX NEWS CHANNEL
1:00 PM
60
0.15
1,325
65
FEAR FACTOR MTV SSN 2
MTV
11:01 PM
61
0.15
284
66
DRUGS, INC.: THE FIX
NATIONAL GEOGRAPHIC
9:00 PM
60
0.15
455
67
DAILY BRIEFING W/D.PERINO
FOX NEWS CHANNEL
2:00 PM
60
0.15
1,421
68
AT THIS HOUR
CNN
11:00 AM
60
0.14
708
69
HAPPENING NOW
FOX NEWS CHANNEL
11:00 AM
60
0.14
1,400
70
FOX AND FRIENDS
FOX NEWS CHANNEL
7:00 AM
60
0.14
1,463
71
AMERICAS NEWSROOM
FOX NEWS CHANNEL
9:00 AM
60
0.14
1,779
72
AMERICANS
FX
10:00 PM
77
0.14
642
73
HIGHLY QUESTIONABLE
ESPN
4:30 PM
30
0.14
403
74
LEGENDARY LOCATIONS
TRAVEL CHANNEL
10:30 PM
30
0.14
574
75
BEAT W/ARI MELBER
MSNBC
6:00 PM
60
0.14
1,425
76
SPORTSCENTER AM      L
ESPN
9:00 AM
60
0.14
274
77
SPORTSCENTER MORNING    L
ESPN
2:00 AM
60
0.13
339
78
AMERICAS NEWSROOM
FOX NEWS CHANNEL
10:00 AM
60
0.13
1,592
79
NFL LIVE                L
ESPN
1:30 PM
90
0.13
339
80
NEW DAY
CNN
8:00 AM
60
0.13
708
81
FOX NEWS AT NIGHT
FOX NEWS CHANNEL
11:00 PM
60
0.13
1,346
82
SPORTSCENTER AM      L
ESPN
7:00 AM
60
0.12
280
83
NEW DAY
CNN
7:00 AM
60
0.12
609
84
MORNING JOE: N/A
MSNBC
6:00 AM
180
0.12
1,057
85
YOUR WORLD W/NEIL CAVUTO
FOX NEWS CHANNEL
4:00 PM
60
0.12
1,288
86
CNN NEWSROOM
CNN
9:00 AM
60
0.12
687
87
OPPOSITION
COMEDY CENTRAL
11:31 PM
30
0.12
323
88
SHEPARD SMITH REPORTING
FOX NEWS CHANNEL
3:00 PM
60
0.11
1,141
89
HOUSE OF PAYNE
BLACK ENTERTAINMENT TV
10:00 AM
32
0.11
258
90
SPORTSCENTER AM      L
ESPN
8:00 AM
60
0.11
231
91
NBA: THE JUMP  L
ESPN
3:00 PM
60
0.11
296
92
HOUSE OF PAYNE
BLACK ENTERTAINMENT TV
10:32 AM
33
0.11
253
93
SPORTSNATION        L
ESPN
4:00 PM
30
0.11
313
94
HOUSE OF PAYNE
BLACK ENTERTAINMENT TV
9:30 AM
30
0.11
248
95
GLAM MASTERS
LIFETIME TELEVISION
10:02 PM
60
0.11
345
96
LAFF MOBB
TRUTV
11:00 PM
30
0.11
215
97
CNN NEWSROOM
CNN
10:00 AM
60
0.11
694
98
SPORTSCENTER AM      L
ESPN
12:00 PM
60
0.11
277
99
MTP DAILY
MSNBC
5:00 PM
60
0.11
1,323
100
WATCH WHAT HAPPENS LIVE
BRAVO
11:00 PM
30
0.10
336
101
NBA REGULAR SEASON   L: CLEVELAND/CHARLOTTE
NBA-TV
7:00 PM
158
0.10
312
102
VICE NEWS TONIGHT
HBO PRIME
7:30 PM
24
0.10
317
103
OTL – FIRST REPORT   L
ESPN
1:00 PM
30
0.09
253
104
HOUSE OF PAYNE
BLACK ENTERTAINMENT TV
9:00 AM
30
0.09
201
105
SECRET LIVES OF SUPR RICH
CNBC
10:00 PM
30
0.09
296
106
E! NEWS
E!
7:00 PM
60
0.09
374
107
GREAT WALL, THE
HBO PRIME
8:00 PM
103
0.09
220
108
DEADLINE:WHITE HOUSE
MSNBC
4:00 PM
60
0.09
1,154
109
FOX AND FRIENDS
FOX NEWS CHANNEL
6:00 AM
60
0.09
1,080
110
MSNBC LIVE W/ S.RUHLE
MSNBC
9:00 AM
60
0.08
982
111
MSNBC LIVE W/K.TUR
MSNBC
2:00 PM
60
0.08
979
112
NHL REGULAR SEASON  L: NY RANGERS/WASHINGTON
NBC SPORTS NETWORK
8:03 PM
167
0.08
309
113
E! NEWS
E!
11:00 PM
60
0.08
244
114
NEW DAY
CNN
6:00 AM
60
0.08
485
115
MSNBC LIVE W/ H.JACKSON
MSNBC
10:00 AM
60
0.08
810
116
MSNBC LIVE W/VELSHI&RUHLE
MSNBC
11:00 AM
60
0.08
742
117
MSNBC LIVE W/ A.VELSHI
MSNBC
3:00 PM
60
0.07
910
118
SCHITTS CREEK
POP
8:00 PM
31
0.07
214
119
NELLA THE PRINCESS KNIGHT
NICK JR
8:00 PM
30
0.07
381
120
NFL TOTAL ACCESS
NFL NETWORK
7:00 PM
60
0.06
149
121
HOUSE OF PAYNE
BLACK ENTERTAINMENT TV
8:30 AM
30
0.06
141
122
DESUS & MERO
VICELAND
11:00 PM
30
0.06
103
123
ANDREA MITCHELL REPORTS
MSNBC
12:00 PM
60
0.06
816
124
UNDISPUTED L: 389
FOX SPORTS 1
9:30 AM
150
0.06
142
125
PARDON THE INTERRUPTION
ESPN2
6:30 PM
30
0.05
140
126
MSNBC LIVE W/ C.MELVIN
MSNBC
1:00 PM
60
0.05
761
127
CROSSROADS
CMT
10:00 PM
60
0.05
144
128
CRIMINAL MINDS
SUNDANCE TV
4:00 PM
60
0.05
176
129
BOOK OF HENRY, THE
HBO PRIME
4:00 PM
105
0.05
171
130
CRIMINAL MINDS
SUNDANCE TV
3:00 PM
60
0.05
184
131
FUGITIVE, THE: FUGITIVE, THE
MAXPRIME
3:55 PM
130
0.05
131
132
BACK TO THE FUTURE PT II
HBO PRIME
9:10 AM
108
0.05
137
133
SPORTSCENTER AM      L
ESPN2
11:00 AM
60
0.05
107
134
OUTRAGEOUS ACTS OF SCIENC
SCIENCE
10:04 PM
62
0.05
246
135
FAST AND THE FURIOUS, THE
HBO PRIME
6:00 AM
67
0.05
119
136
PATH TO THE DRAFT
NFL NETWORK
6:00 PM
60
0.05
112
137
LAS NOTICI..CON D.MAERKER
GALAVISION
1:00 AM
30
0.05
113
138
GRAVEYARD CARZ
VELOCITY
10:00 PM
60
0.05
258
139
CRIMINAL MINDS
SUNDANCE TV
12:00 PM
60
0.05
170
140
CRIMINAL MINDS
SUNDANCE TV
2:00 PM
60
0.05
181
141
NFL LIVE
ESPN2
1:02 AM
58
0.05
99
142
BACK TO THE FUTURE
HBO PRIME
7:10 AM
116
0.05
134
143
HERD L: 691
FOX SPORTS 1
12:00 PM
180
0.05
107
144
SPORTSCENTER AM      L
ESPN2
10:00 AM
60
0.05
99
145
SLUTEVER
VICELAND
10:00 PM
30
0.05
107
146
BREAK
HBO PRIME
5:45 PM
10
0.04
110
147
CRIMINAL MINDS
SUNDANCE TV
1:00 PM
60
0.04
152
148
MORNING EXPRESS W/ MEADE
HLN
6:00 AM
60
0.04
181
149
HOUSE OF PAYNE
BLACK ENTERTAINMENT TV
8:00 AM
30
0.04
98
150
FIRST TAKE
ESPN2
12:00 PM
60
0.04
101
PREVIOUS WEDNESDAY NETWORK SCORECARDS (FAST NATIONALS)
PREVIOUS WEDNESDAY CABLE & BROADCAST NATIONALS
###