NETWORK FINALS:  THURSDAY NIGHT FOOTBALL adjusted to 4.7, up 1.5 from last week's game.  
Broadcast Official Nationals Program Ratings Chart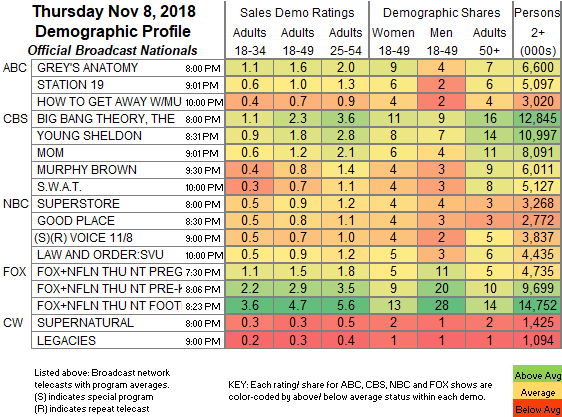 CABLE HIGHLIGHTS:  NFL Network's share of THURSDAY NIGHT FOOTBALL was at 1.04, up 0.29 from last week's game.  On MTV, JERSEY SHORE ticked up to 0.77, and HOW FAR IS TATTOO FAR? was at 0.33/0.31, steady with last week.  TNT's NBA doubleheader was at 0.62 for Golden State vs. Milwaukee, and 0.40 for Houston vs. Oklahoma City.  MSNBC's RACHEL MADDOW SHOW led cable news at 0.39/0.56/3.2M, with Fox News's HANNITY at 0.29/0.53/3.5M, and CNN TONIGHT at 0.24/0.33/1.3M.  On A&E, LIVE PD: PD CAM was at 0.32/0.26 compared to last week's 0.36/0.34, and LIVE PD: POLICE PATROL was at 0.29/0.28.  Bravo's SHAHS OF SUNSET gained 0.04 to 0.31.  Tru's IMPRACTICAL JOKERS ticked up to 0.28, and AFTER-PARTY was at 0.17.  On ID, THE CORONER was steady at 0.25, and THE CASE THAT HAUNTS ME ticked down to 0.22.  Food Network's BEAT BOBBY FLAY edged up 0.02 to 0.21.  On HGTV, FLIP OR FLOP was at 0.19 compared to last week's 0.19/0.18, HOUSE HUNTERS lost 0.03 to 0.14, and HOUSE HUNTERS INTL was down 0.04 to 0.13.  We's GROWING UP HIP-HOP ticked up to 0.18.  On History, AMERICAN PICKERS was at 0.17, and THE RETURN OF SHELBY THE SWAMP MAN dropped 0.04 to 0.16.  POP's IMPACT WRESTLING ticked up to 0.05.  IFC's BARONESS VON SKETCH returned at 0.04 and 0.03/66K.  
 Top 50 Original Cable Telecasts with Demographic Detail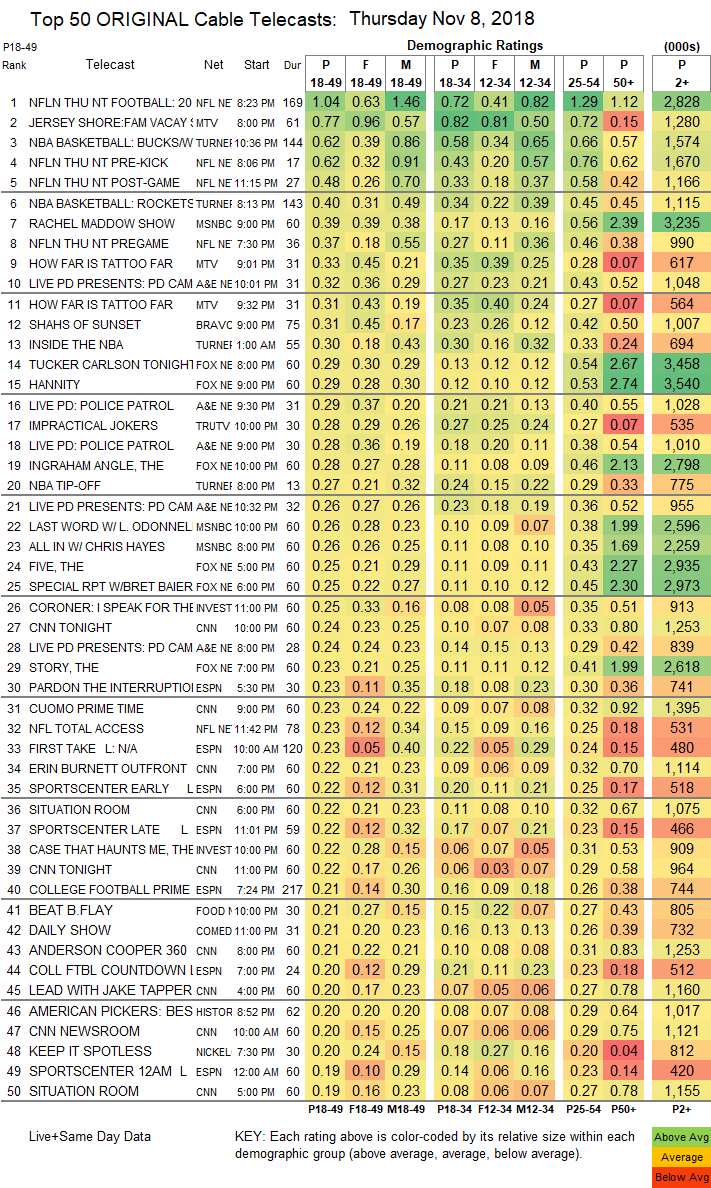 Top 150 Original Cable Telecasts
To search for a show: type Ctrl-F and type your show title in the search box.
Top 150 Original Cable Telecasts: Thursday November 8, 2018
P18-49
P2+
Rank
Program
Net
Start
Mins
Rating
(000s)
1
NFLN THU NT FOOTBALL: 2018 WK 10 CAR VS. PIT
NFL NETWORK
8:23 PM
169
1.04
2,828
2
JERSEY SHORE:FAM VACAY S2
MTV
8:00 PM
61
0.77
1,280
3
NBA BASKETBALL: BUCKS/WARRIORS
TURNER NETWORK TELEVISION
10:36 PM
144
0.62
1,574
4
NFLN THU NT PRE-KICK
NFL NETWORK
8:06 PM
17
0.62
1,670
5
NFLN THU NT POST-GAME
NFL NETWORK
11:15 PM
27
0.48
1,166
6
NBA BASKETBALL: ROCKETS/THUNDER
TURNER NETWORK TELEVISION
8:13 PM
143
0.40
1,115
7
RACHEL MADDOW SHOW
MSNBC
9:00 PM
60
0.39
3,235
8
NFLN THU NT PREGAME
NFL NETWORK
7:30 PM
36
0.37
990
9
HOW FAR IS TATTOO FAR
MTV
9:01 PM
31
0.33
617
10
LIVE PD PRESENTS: PD CAM
A&E NETWORK
10:01 PM
31
0.32
1,048
11
HOW FAR IS TATTOO FAR
MTV
9:32 PM
31
0.31
564
12
SHAHS OF SUNSET
BRAVO
9:00 PM
75
0.31
1,007
13
INSIDE THE NBA
TURNER NETWORK TELEVISION
1:00 AM
55
0.30
694
14
TUCKER CARLSON TONIGHT
FOX NEWS CHANNEL
8:00 PM
60
0.29
3,458
15
HANNITY
FOX NEWS CHANNEL
9:00 PM
60
0.29
3,540
16
LIVE PD: POLICE PATROL
A&E NETWORK
9:30 PM
31
0.29
1,028
17
IMPRACTICAL JOKERS
TRUTV
10:00 PM
30
0.28
535
18
LIVE PD: POLICE PATROL
A&E NETWORK
9:00 PM
30
0.28
1,010
19
INGRAHAM ANGLE, THE
FOX NEWS CHANNEL
10:00 PM
60
0.28
2,798
20
NBA TIP-OFF
TURNER NETWORK TELEVISION
8:00 PM
13
0.27
775
21
LIVE PD PRESENTS: PD CAM
A&E NETWORK
10:32 PM
32
0.26
955
22
LAST WORD W/ L. ODONNELL
MSNBC
10:00 PM
60
0.26
2,596
23
ALL IN W/ CHRIS HAYES
MSNBC
8:00 PM
60
0.26
2,259
24
FIVE, THE
FOX NEWS CHANNEL
5:00 PM
60
0.25
2,935
25
SPECIAL RPT W/BRET BAIER
FOX NEWS CHANNEL
6:00 PM
60
0.25
2,973
26
CORONER: I SPEAK FOR THE
INVESTIGATION DISCOVERY
11:00 PM
60
0.25
913
27
CNN TONIGHT
CNN
10:00 PM
60
0.24
1,253
28
LIVE PD PRESENTS: PD CAM
A&E NETWORK
8:00 PM
28
0.24
839
29
STORY, THE
FOX NEWS CHANNEL
7:00 PM
60
0.23
2,618
30
PARDON THE INTERRUPTION
ESPN
5:30 PM
30
0.23
741
31
CUOMO PRIME TIME
CNN
9:00 PM
60
0.23
1,395
32
NFL TOTAL ACCESS
NFL NETWORK
11:42 PM
78
0.23
531
33
FIRST TAKE   L: N/A
ESPN
10:00 AM
120
0.23
480
34
ERIN BURNETT OUTFRONT
CNN
7:00 PM
60
0.22
1,114
35
SPORTSCENTER EARLY      L
ESPN
6:00 PM
60
0.22
518
36
SITUATION ROOM
CNN
6:00 PM
60
0.22
1,075
37
SPORTSCENTER LATE       L
ESPN
11:01 PM
59
0.22
466
38
CASE THAT HAUNTS ME, THE
INVESTIGATION DISCOVERY
10:00 PM
60
0.22
909
39
CNN TONIGHT
CNN
11:00 PM
60
0.22
964
40
COLLEGE FOOTBALL PRIME  L: WAKE FOREST/NC STATE
ESPN
7:24 PM
217
0.21
744
41
BEAT B.FLAY
FOOD NETWORK
10:00 PM
30
0.21
805
42
DAILY SHOW
COMEDY CENTRAL
11:00 PM
31
0.21
732
43
ANDERSON COOPER 360
CNN
8:00 PM
60
0.21
1,253
44
COLL FTBL COUNTDOWN L
ESPN
7:00 PM
24
0.20
512
45
LEAD WITH JAKE TAPPER
CNN
4:00 PM
60
0.20
1,160
46
AMERICAN PICKERS: BEST OF
HISTORY
8:52 PM
62
0.20
1,017
47
CNN NEWSROOM
CNN
10:00 AM
60
0.20
1,121
48
KEEP IT SPOTLESS
NICKELODEON
7:30 PM
30
0.20
812
49
SPORTSCENTER 12AM  L
ESPN
12:00 AM
60
0.19
420
50
SITUATION ROOM
CNN
5:00 PM
60
0.19
1,155
51
AMERICAS NEWSROOM
FOX NEWS CHANNEL
9:00 AM
60
0.19
2,231
52
FOX AND FRIENDS
FOX NEWS CHANNEL
7:00 AM
60
0.19
1,790
53
FLIP OR FLOP ATLANTA
HOME AND GARDEN TV
9:00 PM
30
0.19
963
54
FOX NEWS AT NIGHT
FOX NEWS CHANNEL
11:00 PM
60
0.19
1,659
55
FOX AND FRIENDS
FOX NEWS CHANNEL
8:00 AM
60
0.19
2,190
56
SPORTSCENTER AM      L
ESPN
7:00 AM
60
0.19
373
57
CNN NEWSROOM
CNN
9:00 AM
60
0.18
1,013
58
11TH HOUR W/B. WILLIAMS
MSNBC
11:00 PM
60
0.18
1,853
59
LIVE PD PRESENTS: PD CAM
A&E NETWORK
12:03 AM
28
0.18
573
60
CRAIG OF THE CREEK
THE CARTOON NETWORK
5:00 PM
30
0.18
632
61
NEW DAY
CNN
8:00 AM
60
0.18
984
62
AMERICAS NEWSROOM
FOX NEWS CHANNEL
10:00 AM
60
0.18
2,085
63
GROWING UP HIP HOP: ATL
WETV
9:00 PM
61
0.18
498
64
AROUND THE HORN
ESPN
5:00 PM
30
0.18
487
65
WOLF
CNN
1:00 PM
60
0.18
1,031
66
HARDBALL WITH C. MATTHEWS
MSNBC
7:00 PM
60
0.18
1,896
67
CNN NEWSROOM
CNN
2:00 PM
60
0.18
1,019
68
AMERICAN PICKERS
HISTORY
8:00 PM
50
0.17
898
69
INSIDE POLITICS
CNN
12:00 PM
60
0.17
1,079
70
AT THIS HOUR
CNN
11:00 AM
60
0.17
1,072
71
TEEN TITANS GO
THE CARTOON NETWORK
6:00 PM
30
0.17
651
72
IJ: AFTER PARTY
TRUTV
10:30 PM
30
0.17
345
73
AMERICAS NEWSROOM
FOX NEWS CHANNEL
11:00 AM
60
0.17
1,988
74
SPORTSCENTER AM      L
ESPN
12:00 PM
60
0.16
352
75
SPORTSCENTER 1AM        L
ESPN
1:00 AM
60
0.16
372
76
CNN NEWSROOM
CNN
3:00 PM
60
0.16
1,067
77
BEAT W/ARI MELBER
MSNBC
6:00 PM
60
0.16
1,850
78
GET UP   L: N/A
ESPN
8:00 AM
120
0.16
349
79
OUTNUMBERED
FOX NEWS CHANNEL
12:00 PM
60
0.16
1,874
80
RETURN SHELBY SWAMP MAN
HISTORY
10:03 PM
62
0.16
984
81
NEW DAY
CNN
7:00 AM
60
0.16
796
82
WE BARE BEARS
THE CARTOON NETWORK
7:00 PM
30
0.15
586
83
FOX AND FRIENDS
FOX NEWS CHANNEL
6:00 AM
60
0.15
1,441
84
DAILY BRIEFING W/D.PERINO
FOX NEWS CHANNEL
2:00 PM
60
0.15
1,791
85
YOUR WORLD W/NEIL CAVUTO
FOX NEWS CHANNEL
4:00 PM
60
0.15
1,845
86
SPORTSCENTER MORNING    L
ESPN
2:00 AM
60
0.15
331
87
NEW DAY
CNN
6:00 AM
60
0.15
782
88
HIGHLY QUESTIONABLE
ESPN
4:30 PM
30
0.15
404
89
NFL GAMEDAY KICKOFF
NFL NETWORK
6:00 PM
90
0.15
425
90
OUTNUMBERED OVERTIME
FOX NEWS CHANNEL
1:00 PM
60
0.14
1,589
91
NFL LIVE                L
ESPN
1:30 PM
90
0.14
389
92
SHEPARD SMITH REPORTING
FOX NEWS CHANNEL
3:00 PM
60
0.14
1,624
93
HOUSE HUNTERS
HOME AND GARDEN TV
10:00 PM
30
0.14
957
94
AMAZING WORLD OF GUMBALL
THE CARTOON NETWORK
8:00 PM
30
0.13
578
95
MTP DAILY
MSNBC
5:00 PM
60
0.13
1,624
96
HOUSE HUNTERS INTL
HOME AND GARDEN TV
10:30 PM
30
0.13
1,031
97
SPORTSCENTER AM      L
ESPN2
8:00 AM
60
0.13
205
98
HIGH NOON (9AM PACIFIC)
ESPN
4:00 PM
30
0.13
304
99
MORNING JOE: N/A
MSNBC
6:00 AM
180
0.12
1,329
100
GOLIC AND WINGO     L: N/A
ESPN2
6:00 AM
120
0.12
211
101
NBA: THE JUMP L
ESPN
3:00 PM
60
0.12
310
102
OTL – FIRST REPORT   L
ESPN
1:00 PM
30
0.12
297
103
DEADLINE:WHITE HOUSE
MSNBC
4:00 PM
60
0.12
1,601
104
MSNBC LIVE W/ A.VELSHI
MSNBC
3:00 PM
60
0.11
1,240
105
MSNBC LIVE W/ S.RUHLE
MSNBC
9:00 AM
60
0.11
1,332
106
MLS PLAYOFFS L: CONF SEMI:SEATTLE SOUNDERS/PORTLAND
FOX SPORTS 1
10:30 PM
194
0.11
245
107
DEAD FILES POPUPS
TRAVEL CHANNEL
10:00 PM
60
0.11
463
108
ANDREA MITCHELL REPORTS
MSNBC
12:00 PM
60
0.11
1,165
109
SPORTSCENTER AM      L
ESPN2
9:00 AM
60
0.11
178
110
MSNBC LIVE W/ H.JACKSON
MSNBC
10:00 AM
60
0.10
1,245
111
MSNBC LIVE W/ C.MELVIN
MSNBC
11:00 AM
60
0.10
1,094
112
WATCH WHAT HAPPENS LIVE
BRAVO
11:15 PM
30
0.09
359
113
UNDISPUTED L: 539
FOX SPORTS 1
9:30 AM
150
0.09
210
114
ACCESS MOVIE: FORGETTING SARAH MARSHALL
IFC TV
6:30 PM
150
0.09
187
115
E! NEWS
E!
6:59 PM
61
0.09
283
116
SPORTSCENTER PRIME    L
ESPN2
7:00 PM
60
0.09
200
117
MSNBC LIVE W/K.TUR
MSNBC
2:00 PM
60
0.09
1,136
118
AMC MOVIE
AMC
1:00 AM
30
0.08
231
119
NFL FANTASY LIVE
NFL NETWORK
5:00 PM
60
0.08
169
120
VICE NEWS TONIGHT
HBO PRIME
7:31 PM
25
0.08
241
121
MSNBC LIVE W/VELSHI&RUHLE
MSNBC
1:00 PM
60
0.08
1,121
122
ENGINEERING CATASTROPHES
SCIENCE
9:00 PM
60
0.08
396
123
AMC MOVIE: PRINCE OF PERSIA SANDS OF
AMC
11:00 PM
120
0.08
253
124
BIG SCREEN MOVIE: LOVE THE COOPERS
FREEFORM
8:30 PM
150
0.07
251
125
LAFF MOBB
TRUTV
11:00 PM
30
0.07
151
126
BLACK-ISH
BLACK ENTERTAINMENT TV
1:00 PM
30
0.07
158
127
MEGA MACHINES: SEA GIANTS
SCIENCE
10:00 PM
60
0.07
345
128
HOME & FAMILY: N/A
HALLMARK CHANNEL
10:00 AM
120
0.06
299
129
MORNING EXPRESS W/ MEADE
HLN
6:00 AM
60
0.06
279
130
HERD L: 858
FOX SPORTS 1
12:00 PM
180
0.06
152
131
MORNING EXPRESS W/ MEADE
HLN
7:00 AM
60
0.05
248
132
COLLEGE FOOTBALL LIVE
ESPN2
5:00 PM
30
0.05
153
133
NFL LIVE
ESPN2
3:00 PM
90
0.05
173
134
ALIEN: COVENANT: ALIEN: COVENANT
MAXPRIME
9:50 PM
122
0.05
130
135
FIRST TAKE
ESPN2
12:00 PM
60
0.05
137
136
PARDON THE INTERRUPTION
ESPN2
6:30 PM
30
0.05
112
137
MORNING EXPRESS W/ MEADE
HLN
8:00 AM
60
0.05
245
138
PREDATORS
MAXPRIME
8:00 PM
107
0.05
145
139
MLB INTENTIONAL TALK  L
ESPN2
4:30 PM
30
0.05
140
140
LIAR LIAR
HBO PRIME
1:30 PM
86
0.05
94
141
CONCACAF U20 – L: GRENADA / MEXICO
UNIVISION DEPORTES
7:50 PM
130
0.05
125
142
USA SOCCER WOMEN        L: PORTUGAL/USA
ESPN2
1:00 PM
120
0.05
149
143
IMPACT WRESTLING: 345
POP
10:00 PM
120
0.05
129
144
RAINBOW RANGERS
NICK JR
3:00 PM
30
0.05
225
145
BARONESS VON SKETCH SHOW
IFC TV
9:00 PM
30
0.04
93
146
TNF FIRST LOOK: N/A
NFL NETWORK
3:00 PM
120
0.04
114
147
FULL GAME BROADCAST: 2018 WK 9 PIT VS. BAL
NFL NETWORK
1:00 PM
120
0.04
107
148
FOOD FACT OR FICTION
COOKING CHANNEL
10:00 PM
30
0.04
124
149
SPORTSCENTER SPECIAL
ESPN2
5:30 PM
30
0.04
111
150
LAYOVER, THE
HBO PRIME
4:00 PM
88
0.04
112
PREVIOUS THURSDAY NETWORK SCORECARDS (FAST NATIONALS)
PREVIOUS THURSDAY CABLE & BROADCAST NATIONALS
###