NETWORK FINALS:  THURSDAY NIGHT FOOTBALL adjusted to 4.2, up 0.2 from last week's final rating.  Elsewhere, SUPERNATURAL gained 0.1 in final numbers, and YOUNG SHELDON lost the same.  
Broadcast Official Nationals Program Ratings Chart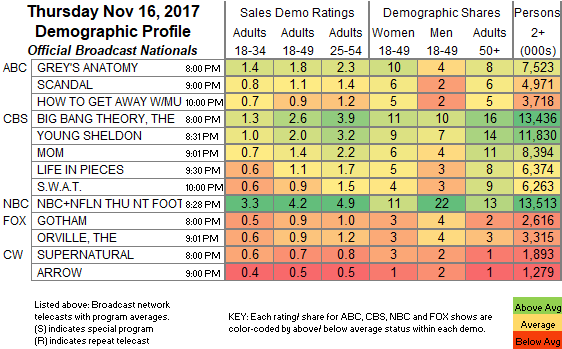 CABLE HIGILIGHTS:  Basketball and football topped Thursday cable.  TNT's NBA doubleheader was at 1.21 (for Golden State vs. Boston)/0.61.  They sandwiched the NFL Network slice of THURSDAY NIGHT FOOTBALL, which was up 0.07 from last week to 1.16.  Lifetime's PROJECT RUNWAY climbed 0.11 to 0.50, and AMERICAN BEAUTY STAR was up 0.03 to 0.12.  On USA, CHRISLEY KNOWS BEST fell a tenth to 0.37, and THE CROMARTIES was down 0.02 to 0.21.  Fox News's HANNITY topped cable news at 0.31/0.53/3.3M, over MSNBC's RACHEL MADDOW SHOW at 0.30/0.48/2.6M, and CNN's ERIN BURNETT UPFRONT at 0.20/0.27/900K.  On ID, HOME ALONE ticked up to 0.30, and BLOOD RELATIVES was down 0.03 to 0.22.  Food Network's BEAT BOBBY FLAY was steady at 0.27.  On We, TAMAR & VINCE dipped 0.04 to 0.24.  On HGTV, FLIP OR FLOP ticked down to 0.23, HOUSE HUNTERS INTL was also down a tick to 0.22, and HOUSE HUNTERS dropped 0.05 to 0.21.  On Bravo, MILLION DOLLAR LISTING rose 0.02 to 0.23, and REAL ESTATE WARS was down a tick to 0.11.  Tru's THE CARBONARO EFFECT slipped 0.02 to 0.16.  A&E's THE ELEVEN lost 0.03 to 0.14.  The season finale of FX's BETTER THINGS fell 0.05 to 0.12.  E!'s THE PLATINUM LIFE held at 0.12.  On Syfy, VAN HELSING edged up 0.02 to 0.12, and GHOST WARS was up 0.02 to 0.08.  POP's IMPACT WRESTLING ticked up to 0.05.  
Top 50 Original Cable Telecasts with Demographic Detail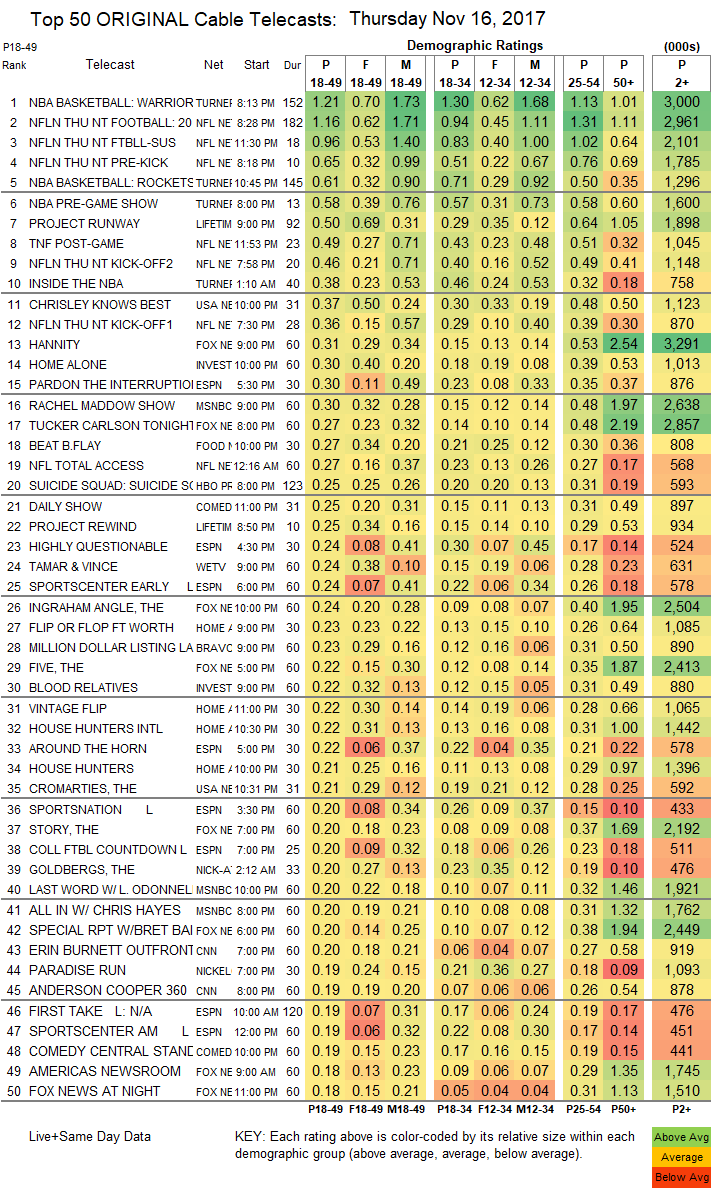 Top 150 Original Cable Telecasts
To search for a show: type Ctrl-F and type your show title in the search box.
Top 150 Original Cable Telecasts: Thursday November 16, 2017
P18-49
P2+
Rank
Program
Net
Start
Mins
Rating
(000s)
1
NBA BASKETBALL: WARRIORS/CELTICS
TURNER NETWORK TELEVISION
8:13 PM
152
1.21
3,000
2
NFLN THU NT FOOTBALL: 2017 WEEK 11 TEN VS. PIT
NFL NETWORK
8:28 PM
182
1.16
2,961
3
NFLN THU NT FTBLL-SUS
NFL NETWORK
11:30 PM
18
0.96
2,101
4
NFLN THU NT PRE-KICK
NFL NETWORK
8:18 PM
10
0.65
1,785
5
NBA BASKETBALL: ROCKETS/SUNS
TURNER NETWORK TELEVISION
10:45 PM
145
0.61
1,296
6
NBA PRE-GAME SHOW
TURNER NETWORK TELEVISION
8:00 PM
13
0.58
1,600
7
PROJECT RUNWAY
LIFETIME TELEVISION
9:00 PM
92
0.50
1,898
8
TNF POST-GAME
NFL NETWORK
11:53 PM
23
0.49
1,045
9
NFLN THU NT KICK-OFF2
NFL NETWORK
7:58 PM
20
0.46
1,148
10
INSIDE THE NBA
TURNER NETWORK TELEVISION
1:10 AM
40
0.38
758
11
CHRISLEY KNOWS BEST
USA NETWORK
10:00 PM
31
0.37
1,123
12
NFLN THU NT KICK-OFF1
NFL NETWORK
7:30 PM
28
0.36
870
13
HANNITY
FOX NEWS CHANNEL
9:00 PM
60
0.31
3,291
14
HOME ALONE
INVESTIGATION DISCOVERY
10:00 PM
60
0.30
1,013
15
PARDON THE INTERRUPTION
ESPN
5:30 PM
30
0.30
876
16
RACHEL MADDOW SHOW
MSNBC
9:00 PM
60
0.30
2,638
17
TUCKER CARLSON TONIGHT
FOX NEWS CHANNEL
8:00 PM
60
0.27
2,857
18
BEAT B.FLAY
FOOD NETWORK
10:00 PM
30
0.27
808
19
NFL TOTAL ACCESS
NFL NETWORK
12:16 AM
60
0.27
568
20
SUICIDE SQUAD: SUICIDE SQUAD
HBO PRIME
8:00 PM
123
0.25
593
21
DAILY SHOW
COMEDY CENTRAL
11:00 PM
31
0.25
897
22
PROJECT REWIND
LIFETIME TELEVISION
8:50 PM
10
0.25
934
23
HIGHLY QUESTIONABLE
ESPN
4:30 PM
30
0.24
524
24
TAMAR & VINCE
WETV
9:00 PM
60
0.24
631
25
SPORTSCENTER EARLY      L
ESPN
6:00 PM
60
0.24
578
26
INGRAHAM ANGLE, THE
FOX NEWS CHANNEL
10:00 PM
60
0.24
2,504
27
FLIP OR FLOP FT WORTH
HOME AND GARDEN TV
9:00 PM
30
0.23
1,085
28
MILLION DOLLAR LISTING LA
BRAVO
9:00 PM
60
0.23
890
29
FIVE, THE
FOX NEWS CHANNEL
5:00 PM
60
0.22
2,413
30
BLOOD RELATIVES
INVESTIGATION DISCOVERY
9:00 PM
60
0.22
880
31
VINTAGE FLIP
HOME AND GARDEN TV
11:00 PM
30
0.22
1,065
32
HOUSE HUNTERS INTL
HOME AND GARDEN TV
10:30 PM
30
0.22
1,442
33
AROUND THE HORN
ESPN
5:00 PM
30
0.22
578
34
HOUSE HUNTERS
HOME AND GARDEN TV
10:00 PM
30
0.21
1,396
35
CROMARTIES, THE
USA NETWORK
10:31 PM
31
0.21
592
36
SPORTSNATION        L
ESPN
3:30 PM
60
0.20
433
37
STORY, THE
FOX NEWS CHANNEL
7:00 PM
60
0.20
2,192
38
COLL FTBL COUNTDOWN L
ESPN
7:00 PM
25
0.20
511
39
GOLDBERGS, THE
NICK-AT-NITE
2:12 AM
33
0.20
476
40
LAST WORD W/ L. ODONNELL
MSNBC
10:00 PM
60
0.20
1,921
41
ALL IN W/ CHRIS HAYES
MSNBC
8:00 PM
60
0.20
1,762
42
SPECIAL RPT W/BRET BAIER
FOX NEWS CHANNEL
6:00 PM
60
0.20
2,449
43
ERIN BURNETT OUTFRONT
CNN
7:00 PM
60
0.20
919
44
PARADISE RUN
NICKELODEON
7:00 PM
30
0.19
1,093
45
ANDERSON COOPER 360
CNN
8:00 PM
60
0.19
878
46
FIRST TAKE   L: N/A
ESPN
10:00 AM
120
0.19
476
47
SPORTSCENTER AM      L
ESPN
12:00 PM
60
0.19
451
48
COMEDY CENTRAL STAND-UP
COMEDY CENTRAL
10:00 PM
60
0.19
441
49
AMERICAS NEWSROOM
FOX NEWS CHANNEL
9:00 AM
60
0.18
1,745
50
FOX NEWS AT NIGHT
FOX NEWS CHANNEL
11:00 PM
60
0.18
1,510
51
TOP WING
NICKELODEON
12:30 PM
30
0.18
710
52
OUTNUMBERED
FOX NEWS CHANNEL
12:00 PM
60
0.18
1,644
53
SPORTSCENTER AM      L
ESPN
7:00 AM
60
0.17
384
54
FOX AND FRIENDS
FOX NEWS CHANNEL
8:00 AM
60
0.17
1,971
55
CNN TONIGHT
CNN
10:00 PM
60
0.17
792
56
AMERICAS NEWSROOM
FOX NEWS CHANNEL
10:00 AM
60
0.16
1,511
57
DAILY BRIEFING W/D.PERINO
FOX NEWS CHANNEL
2:00 PM
60
0.16
1,431
58
SPORTSCENTER AM      L
ESPN
8:00 AM
60
0.16
357
59
SITUATION ROOM
CNN
5:00 PM
60
0.16
881
60
OUTNUMBERED OVERTIME
FOX NEWS CHANNEL
1:00 PM
60
0.16
1,398
61
NBA: THE JUMP  L
ESPN
3:00 PM
30
0.16
369
62
11TH HOUR W/B. WILLIAMS
MSNBC
11:00 PM
60
0.16
1,340
63
SPORTSCENTER AM      L
ESPN
9:00 AM
60
0.16
353
64
CARBONARO EFFECT, THE
TRUTV
10:00 PM
30
0.16
402
65
TNF GAMEDAY
NFL NETWORK
6:00 PM
90
0.16
429
66
OTL – FIRST REPORT   L
ESPN
1:00 PM
30
0.15
414
67
HAPPENING NOW
FOX NEWS CHANNEL
11:00 AM
60
0.15
1,459
68
LEAD WITH JAKE TAPPER
CNN
4:00 PM
60
0.15
821
69
CNN TONIGHT
CNN
11:00 PM
60
0.15
653
70
BATMAN V SUPERMAN:DAWN OF: BATMAN V SUPERMAN:DAWN OF
HBO PRIME
10:03 PM
152
0.15
367
71
YOUR WORLD W/NEIL CAVUTO
FOX NEWS CHANNEL
4:00 PM
60
0.15
1,607
72
HARDBALL WITH C. MATTHEWS
MSNBC
7:00 PM
60
0.15
1,659
73
COLLEGE FOOTBALL PRIME  L: TULSA/SOUTH FLORIDA
ESPN
7:25 PM
202
0.15
545
74
LEAD WITH JAKE TAPPER
CNN
9:00 PM
60
0.14
716
75
NFL LIVE                L
ESPN
1:30 PM
90
0.14
382
76
ELEVEN, THE
A&E NETWORK
10:00 PM
63
0.14
458
77
SITUATION ROOM
CNN
6:00 PM
60
0.14
757
78
NEW DAY
CNN
8:00 AM
60
0.14
713
79
SHEPARD SMITH REPORTING
FOX NEWS CHANNEL
3:00 PM
60
0.14
1,575
80
CNN NEWSROOM
CNN
3:00 PM
60
0.14
829
81
FOX AND FRIENDS
FOX NEWS CHANNEL
7:00 AM
60
0.14
1,582
82
NEW DAY
CNN
7:00 AM
60
0.13
694
83
CNN NEWSROOM
CNN
9:00 AM
60
0.13
646
84
SPORTSCENTER 1AM        L
ESPN
1:00 AM
60
0.13
317
85
INSIDE POLITICS
CNN
12:00 PM
60
0.12
678
86
BETTER THINGS
FX
10:00 PM
43
0.12
336
87
PLATINUM LIFE, THE
E!
10:00 PM
60
0.12
236
88
SPORTSCENTER 12AM  L
ESPN
12:00 AM
60
0.12
341
89
CNN NEWSROOM
CNN
10:00 AM
60
0.12
674
90
E! NEWS
E!
7:00 PM
60
0.12
363
91
NEW DAY
CNN
6:00 AM
60
0.12
592
92
MORNING JOE: N/A
MSNBC
6:00 AM
180
0.12
1,147
93
MYSTERIES AT THE MUSEUM
TRAVEL CHANNEL
9:00 PM
60
0.12
560
94
AMERICAN BEAUTY STAR
LIFETIME TELEVISION
10:32 PM
60
0.12
442
95
VAN HELSING
SYFY
9:00 PM
60
0.12
345
96
DEADLINE:WHITE HOUSE
MSNBC
4:00 PM
60
0.11
1,139
97
CNN NEWSROOM
CNN
2:00 PM
60
0.11
820
98
REAL ESTATE WARS
BRAVO
10:00 PM
60
0.11
420
99
SPORTSCENTER MORNING    L
ESPN
2:00 AM
60
0.11
279
100
AT THIS HOUR
CNN
11:00 AM
60
0.10
641
101
FOX AND FRIENDS
FOX NEWS CHANNEL
6:00 AM
60
0.10
1,147
102
RUNNING WILD WITH BEAR GR
NATIONAL GEOGRAPHIC
9:00 PM
60
0.10
420
103
MSNBC LIVE W/ S.RUHLE
MSNBC
9:00 AM
60
0.10
1,152
104
MYST MUSEUM REPACK
TRAVEL CHANNEL
8:00 PM
60
0.10
525
105
MSNBC LIVE W/ C.MELVIN
MSNBC
1:00 PM
60
0.10
876
106
RUNNING WILD WITH BEAR GR
NATIONAL GEOGRAPHIC
10:00 PM
60
0.10
389
107
VICE NEWS TONIGHT
HBO PRIME
7:31 PM
28
0.10
372
108
WOLF
CNN
1:00 PM
60
0.10
747
109
HOT GREASE
DISCOVERY CHANNEL
9:00 PM
90
0.10
339
110
OPPOSITION
COMEDY CENTRAL
11:31 PM
30
0.10
278
111
WATCH WHAT HAPPENS LIVE
BRAVO
11:00 PM
30
0.09
297
112
MTP DAILY
MSNBC
5:00 PM
60
0.09
1,199
113
BEAT W/ARI MELBER
MSNBC
6:00 PM
60
0.09
1,302
114
MSNBC LIVE W/ A.VELSHI
MSNBC
3:00 PM
60
0.09
905
115
MSNBC LIVE W/K.TUR
MSNBC
2:00 PM
60
0.09
806
116
SPORTSCENTER LATE       L
ESPN
10:47 PM
73
0.09
263
117
GHOST WARS
SYFY
10:00 PM
60
0.08
326
118
E! NEWS
E!
11:00 PM
63
0.08
232
119
MSNBC LIVE W/ H.JACKSON
MSNBC
10:00 AM
60
0.08
955
120
UNDISPUTED L: 297
FOX SPORTS 1
9:30 AM
150
0.08
167
121
MORNING EXPRESS W/ MEADE
HLN
7:00 AM
60
0.08
264
122
ANDREA MITCHELL REPORTS
MSNBC
12:00 PM
60
0.08
911
123
CHRIS GETHARD SHOW, THE
TRUTV
11:00 PM
60
0.08
174
124
COLL BSKBL:BIG 10 L: XAVIER/WISCONSIN
FOX SPORTS 1
8:41 PM
124
0.08
294
125
RUNDOWN, THE
BLACK ENTERTAINMENT TV
11:00 PM
30
0.07
230
126
MIKE & MIKE IN THE MORN L: N/A
ESPN2
6:00 AM
240
0.07
238
127
MSNBC LIVE W/VELSHI&RUHLE
MSNBC
11:00 AM
60
0.07
924
128
STAR VS FORCES OF EVIL
DISNEY XD
8:30 PM
30
0.07
294
129
MORNING EXPRESS W/ MEADE
HLN
6:00 AM
60
0.07
271
130
NFL FANTASY LIVE
NFL NETWORK
5:00 PM
60
0.07
171
131
SPLIT
HBO PRIME
5:30 PM
117
0.07
187
132
HOME & FAMILY: N/A
HALLMARK CHANNEL
10:00 AM
120
0.07
283
133
COLLEGE BKBL REG SSN    L: VIRGINIA TECH/ST. LOUIS
ESPN2
7:04 PM
140
0.06
182
134
STAR VS FORCES OF EVIL
DISNEY XD
8:00 PM
30
0.06
336
135
SECRET LIVES OF SUPR RICH
CNBC
10:00 PM
30
0.06
208
136
DESUS & MERO
VICELAND
11:00 PM
30
0.06
93
137
COMEDY GET DOWN, THE
BLACK ENTERTAINMENT TV
11:30 PM
30
0.06
210
138
MORNING EXPRESS W/ MEADE
HLN
8:00 AM
60
0.06
227
139
COLLEGE BKBL REG SSN    L
ESPN2
5:07 PM
117
0.06
159
140
COLLEGE BKBL REG SSN    L: PROVIDENCE/WASHINGTON
ESPN2
9:48 PM
129
0.06
155
141
SPORTSCENTER AM      L
ESPN2
10:00 AM
60
0.06
135
142
SPEAK FOR YOURSELF D
FOX SPORTS 1
5:00 PM
60
0.06
130
143
DEADPOOL
MAXPRIME
6:10 PM
108
0.05
138
144
HERD L: 595
FOX SPORTS 1
12:00 PM
180
0.05
115
145
IMPACT WRESTLING: 246
POP
8:00 PM
120
0.05
272
146
WAR DOG:SOLDIERS BEST FRI
HBO PRIME
12:40 AM
69
0.05
113
147
E! NEWS: DAILY POP I
E!
12:00 PM
60
0.05
118
148
SUM OF ALL FEARS, THE: SUM OF ALL FEARS, THE
HBO PRIME
11:35 AM
124
0.05
180
149
FTD CLASSICS
VICELAND
10:00 PM
30
0.05
89
150
YOUNG AND THE RESTLESS, T
POP
7:00 PM
60
0.05
567
PREVIOUS THURSDAY NETWORK SCORECARDS (FAST NATIONALS)
PREVIOUS THURSDAY CABLE & BROADCAST NATIONALS
###