NETWORK FINALS:  The EMMY AWARDS adjusted to 2.5 in final numbers, down 0.3 from 2016 and a new low.  SUNDAY NIGHT FOOTBALL adjusted to 7.1, down 2 points from last week's final rating.  On FOX, NFL adjustment pushed THE ORVILLE down half a point to 2.2, and the rerun of THE SIMPSONS was up 0.2 to 1.0.  
Broadcast Official Nationals Program Ratings Chart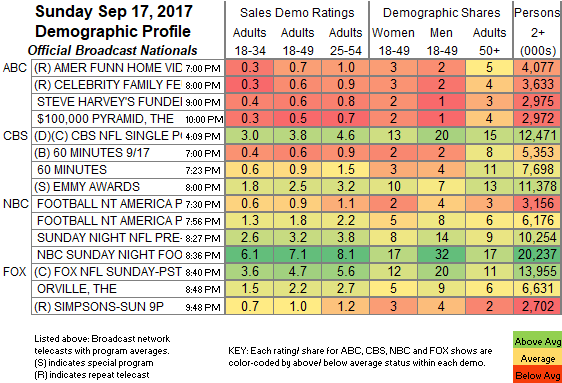 CABLE HIGHLIGHTS:  On HBO, VICE PRINCIPALS returned at 0.33, down 0.22 from last year's series premiere.  Earlier in the evening, the just-renewed THE DEUCE was up 0.04 to 0.28 (the pilot had been made available via VOD/streaming prior to air), and BALLERS slipped 0.03 to 0.38.  The series finale of FX's THE STRAIN rose 0.06 to 0.40.
Adult Swim's late-night RICK & MORTY was again unchallenged at the top of Sunday cable, up 0.09 to 1.41, with lead-out TIM & ERIC'S BEDTIME STORIES at 0.33, compared to last week's 0.58/0.46.  AMC's FEAR THE WALKING DEAD dropped 0.04 from last week's 2-hour midseason premiere to 0.74, and TALKING DEAD was up 0.03 to 0.24.  TNT's THE LAST SHIP climbed 0.07 to 0.34.  On Starz, OUTLANDER dipped 0.02 to 0.29, and SURVIVOR'S REMORSE ticked up to 0.15.  Hallmark's CHESAPEAKE SHORES gained 0.03 to 0.27.  On Showtime, RAY DONOVAN grew by 0.06 to 0.26, EPISODES ticked up to 0.05/264K, but DICE fell 0.03 to 0.01/105K.  MTV's TEEN WOLF aired 2 episodes at 0.23/0.21, compared to last week's 0.21, and a TEEN WOLF AWARDS after-show was at 0.09.  
TLC's 90 DAY FIANCE led unscripted at 0.53/0.48 compared to last week's 0.64/0.62 (that was billed as a "finale," so these may have been reunion shows), and MY GIANT LIFE premiered at 0.30.  Bravo's SHAHS OF SUNSET was steady at 0.42.  NBC Sports Net's NASCAR race was at 0.38.  On Food Network's GUY'S GROCERY GAMES rose 0.07 to 0.37, and GREAT FOOD TRUCK RACE ticked up to 0.34.  On E!, LIFE OF KYLIE gained 0.05 to 0.31, and WAGS ticked down to 0.14.  HGTV's line-up was topped by ISLAND LIFE at 0.26/0.26, compared to last week's 0.22/0.22.  Spike's BAR RESCUE fell 0.08 to 0.15.  
Top 50 Original Cable Telecasts with Demographic Detail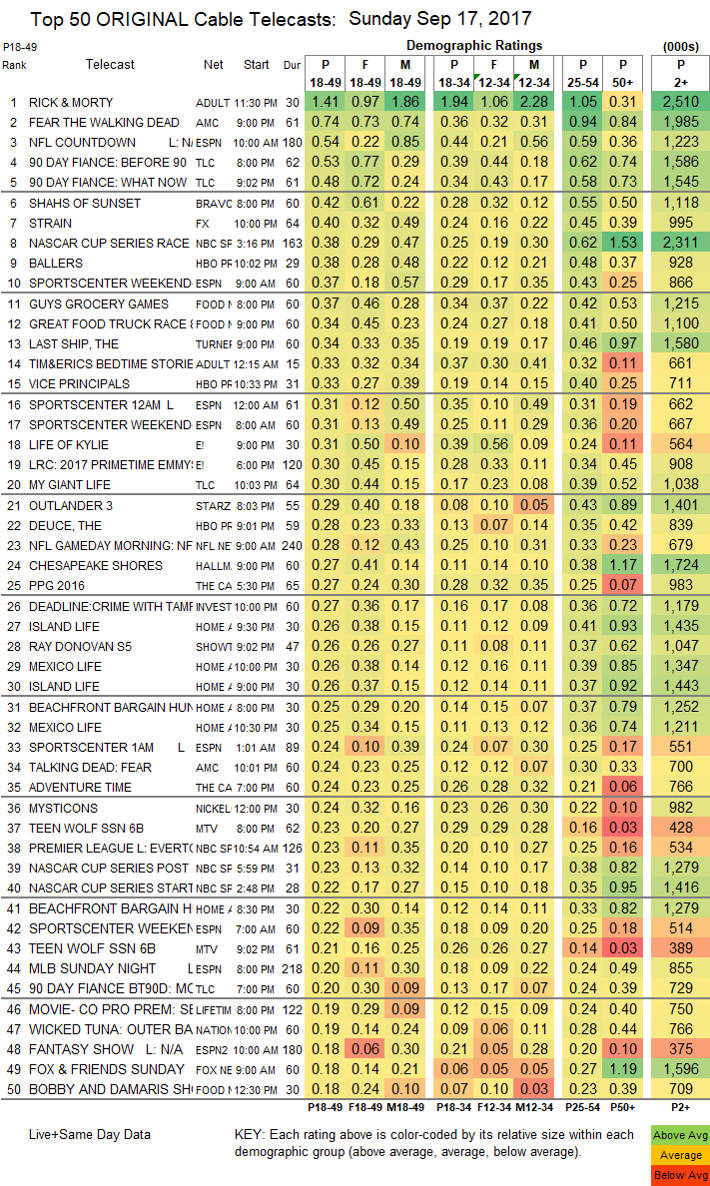 Top 150 Original Cable Telecasts
To search for a show: type Ctrl-F and type your show title in the search box.
Top 150 Original Cable Telecasts: Sunday September 17, 2017
P18-49
P2+
Rank
Program
Net
Start
Mins
Rating
(000s)
1
RICK & MORTY
ADULT SWIM
11:30 PM
30
1.41
2,510
2
FEAR THE WALKING DEAD
AMC
9:00 PM
61
0.74
1,985
3
NFL COUNTDOWN           L: N/A
ESPN
10:00 AM
180
0.54
1,223
4
90 DAY FIANCE: BEFORE 90
TLC
8:00 PM
62
0.53
1,586
5
90 DAY FIANCE: WHAT NOW
TLC
9:02 PM
61
0.48
1,545
6
SHAHS OF SUNSET
BRAVO
8:00 PM
60
0.42
1,118
7
STRAIN
FX
10:00 PM
64
0.40
995
8
NASCAR CUP SERIES RACE L: CHICAGOLAND
NBC SPORTS NETWORK
3:16 PM
163
0.38
2,311
9
BALLERS
HBO PRIME
10:02 PM
29
0.38
928
10
SPORTSCENTER WEEKEND-AM L
ESPN
9:00 AM
60
0.37
866
11
GUYS GROCERY GAMES
FOOD NETWORK
8:00 PM
60
0.37
1,215
12
GREAT FOOD TRUCK RACE 8
FOOD NETWORK
9:00 PM
60
0.34
1,100
13
LAST SHIP, THE
TURNER NETWORK TELEVISION
9:00 PM
60
0.34
1,580
14
TIM&ERICS BEDTIME STORIES
ADULT SWIM
12:15 AM
15
0.33
661
15
VICE PRINCIPALS
HBO PRIME
10:33 PM
31
0.33
711
16
SPORTSCENTER 12AM  L
ESPN
12:00 AM
61
0.31
662
17
SPORTSCENTER WEEKEND-AM L
ESPN
8:00 AM
60
0.31
667
18
LIFE OF KYLIE
E!
9:00 PM
30
0.31
564
19
LRC: 2017 PRIMETIME EMMYS: N/A
E!
6:00 PM
120
0.30
908
20
MY GIANT LIFE
TLC
10:03 PM
64
0.30
1,038
21
OUTLANDER 3
STARZ PRIMARY
8:03 PM
55
0.29
1,401
22
DEUCE, THE
HBO PRIME
9:01 PM
59
0.28
839
23
NFL GAMEDAY MORNING: NFL GAMEDAY MORNING
NFL NETWORK
9:00 AM
240
0.28
679
24
CHESAPEAKE SHORES
HALLMARK CHANNEL
9:00 PM
60
0.27
1,724
25
PPG 2016
THE CARTOON NETWORK
5:30 PM
65
0.27
983
26
DEADLINE:CRIME WITH TAMRO
INVESTIGATION DISCOVERY
10:00 PM
60
0.27
1,179
27
ISLAND LIFE
HOME AND GARDEN TV
9:30 PM
30
0.26
1,435
28
RAY DONOVAN S5
SHOWTIME PRIME
9:02 PM
47
0.26
1,047
29
MEXICO LIFE
HOME AND GARDEN TV
10:00 PM
30
0.26
1,347
30
ISLAND LIFE
HOME AND GARDEN TV
9:00 PM
30
0.26
1,443
31
BEACHFRONT BARGAIN HUNT
HOME AND GARDEN TV
8:00 PM
30
0.25
1,252
32
MEXICO LIFE
HOME AND GARDEN TV
10:30 PM
30
0.25
1,211
33
SPORTSCENTER 1AM        L
ESPN
1:01 AM
89
0.24
551
34
TALKING DEAD: FEAR
AMC
10:01 PM
60
0.24
700
35
ADVENTURE TIME
THE CARTOON NETWORK
7:00 PM
60
0.24
766
36
MYSTICONS
NICKELODEON
12:00 PM
30
0.24
982
37
TEEN WOLF SSN 6B
MTV
8:00 PM
62
0.23
428
38
PREMIER LEAGUE L: EVERTON/MANCHESTER UNITED
NBC SPORTS NETWORK
10:54 AM
126
0.23
534
39
NASCAR CUP SERIES POST
NBC SPORTS NETWORK
5:59 PM
31
0.23
1,279
40
NASCAR CUP SERIES START L
NBC SPORTS NETWORK
2:48 PM
28
0.22
1,416
41
BEACHFRONT BARGAIN HUNT
HOME AND GARDEN TV
8:30 PM
30
0.22
1,279
42
SPORTSCENTER WEEKEND-AM L
ESPN
7:00 AM
60
0.22
514
43
TEEN WOLF SSN 6B
MTV
9:02 PM
61
0.21
389
44
MLB SUNDAY NIGHT        L: DODGERS/NATIONALS
ESPN
8:00 PM
218
0.20
855
45
90 DAY FIANCE BT90D: MORE
TLC
7:00 PM
60
0.20
729
46
MOVIE- CO PRO PREM: SEA CHANGE
LIFETIME TELEVISION
8:00 PM
122
0.19
750
47
WICKED TUNA: OUTER BANKS
NATIONAL GEOGRAPHIC
10:00 PM
60
0.19
766
48
FANTASY SHOW   L: N/A
ESPN2
10:00 AM
180
0.18
375
49
FOX & FRIENDS SUNDAY
FOX NEWS CHANNEL
9:00 AM
60
0.18
1,596
50
BOBBY AND DAMARIS SHOW
FOOD NETWORK
12:30 PM
30
0.18
709
51
NFL GAMEDAY LIVE: NFL GAMEDAY LIVE
NFL NETWORK
1:00 PM
210
0.17
446
52
FAREED ZAKARIA: GPS
CNN
10:00 AM
60
0.16
871
53
BAR RESCUE
SPIKE TV
10:00 PM
60
0.15
422
54
SUNDAY MORNING FUTURES
FOX NEWS CHANNEL
10:00 AM
60
0.15
1,247
55
SEX & THE CITY (THE MOVIE: SEX & THE CITY (THE MOVIE
HBO PRIME
4:00 PM
145
0.15
362
56
FOX & FRIENDS SUNDAY
FOX NEWS CHANNEL
8:00 AM
60
0.15
1,489
57
SURVIVORS REMORSE 4
STARZ PRIMARY
10:01 PM
28
0.15
413
58
SPORTSCENTER LATE       L
ESPN
11:38 PM
22
0.14
405
59
RELIABLE SOURCES
CNN
11:00 AM
60
0.14
705
60
WAGS MIAMI
E!
10:00 PM
60
0.14
294
61
PREMIER LEAGUE L: ARSENAL/CHELSEA
CNBC
8:23 AM
127
0.14
328
62
CNN NEWSROOM
CNN
5:00 PM
60
0.13
591
63
STATE OF THE UNION
CNN
9:00 AM
60
0.13
703
64
NFL GAMEDAY LIVE: NFL GAMEDAY LIVE
NFL NETWORK
4:30 PM
180
0.13
346
65
FOX REPORT SUNDAY
FOX NEWS CHANNEL
7:00 PM
60
0.13
1,080
66
LONE STAR RESTORATION
HISTORY
12:00 PM
60
0.13
445
67
FOX & FRIENDS SUNDAY
FOX NEWS CHANNEL
7:00 AM
60
0.13
1,116
68
AMERICAS NEWS HQ
FOX NEWS CHANNEL
12:00 PM
60
0.13
1,022
69
WATCH WHAT HAPPENS LIVE
BRAVO
11:00 PM
30
0.12
407
70
MEDIA BUZZ
FOX NEWS CHANNEL
11:00 AM
60
0.12
1,072
71
NASCAR CUP COUNTDOWN
NBC SPORTS NETWORK
2:21 PM
27
0.12
782
72
E!S LOOK BOOK
E!
9:30 PM
30
0.12
242
73
MLS REGULAR SEASON      L: NEW YORK RED BULLS/PHILADELPHIA UNION
ESPN
1:00 PM
125
0.12
259
74
INSIDE POLITICS
CNN
8:00 AM
60
0.12
709
75
NORTH WOODS LAW: NH
ANIMAL PLANET
10:00 PM
61
0.12
474
76
JASON BOURNE: JASON BOURNE
HBO PRIME
1:50 PM
123
0.12
259
77
LA LA LAND: LA LA LAND
HBO PRIME
6:46 PM
128
0.11
312
78
NFL GAMEDAY PRIME
NFL NETWORK
11:30 PM
109
0.11
316
79
NFL GAMEDAY HIGHLIGHTS
NFL NETWORK
7:30 PM
60
0.11
346
80
AM JOY: N/A
MSNBC
10:00 AM
120
0.11
784
81
POWERNATION: EXT OFF ROAD
SPIKE TV
9:00 AM
30
0.11
254
82
OBJECTIFIED: JUDGE JUDY
FOX NEWS CHANNEL
8:00 PM
60
0.11
1,324
83
E! AFTER PARTY 17 EMMYS
E!
11:00 PM
60
0.11
272
84
PREMIER LG LIVE STUDIO
NBC SPORTS NETWORK
10:30 AM
24
0.11
283
85
AMERICAS NEWS HQ
FOX NEWS CHANNEL
6:00 PM
60
0.11
694
86
NEXT REVOLUTION, THE
FOX NEWS CHANNEL
9:00 PM
60
0.10
977
87
COUNTDOWN: 2017 EMMYS
E!
4:30 PM
90
0.10
316
88
CNN NEWSROOM
CNN
6:00 PM
60
0.10
480
89
TIA MOWRY AT HOME
FOOD NETWORK
10:00 AM
30
0.10
409
90
MASH
AMC
10:30 AM
30
0.10
671
91
MASH
AMC
10:00 AM
30
0.10
576
92
FANTASTIC BEASTS & WHERE: FANTASTIC BEASTS & WHERE
HBO PRIME
9:50 AM
133
0.10
290
93
MASH
AMC
11:00 AM
30
0.10
691
94
DEADPOOL
MAXPRIME
8:00 PM
108
0.10
259
95
SUNNY DAY
NICK JR
12:00 PM
30
0.10
453
96
INDYCAR SERIES L: SONOMA
NBC SPORTS NETWORK
6:30 PM
136
0.10
528
97
FOX NEWS SUNDAY
FOX NEWS CHANNEL
2:00 PM
60
0.10
830
98
FOX & FRIENDS SUNDAY
FOX NEWS CHANNEL
6:00 AM
60
0.10
812
99
CNN NEWSROOM
CNN
2:00 PM
60
0.09
518
100
TEEN WOLF AWARDS
MTV
10:03 PM
31
0.09
165
101
CNN NEWSROOM
CNN
4:00 PM
60
0.09
484
102
MSNBC LIVE W/ A.WITT
MSNBC
9:00 AM
60
0.09
519
103
F1 RACING L: SINGAPORE
NBC SPORTS NETWORK
7:27 AM
167
0.09
450
104
AMERICAS NEWS HQ
FOX NEWS CHANNEL
1:00 PM
60
0.09
782
105
MLB REGULAR SEASON: CARDINALS/CUBS
TBS NETWORK
2:00 PM
256
0.09
303
106
MEET THE PRESS
MSNBC
2:00 PM
60
0.09
625
107
MASH
AMC
11:30 AM
30
0.09
602
108
CNN NEWSROOM
CNN
7:00 PM
60
0.09
439
109
HOW ITS MADE:
SCIENCE
8:00 PM
31
0.08
314
110
POWERNATION: ENGINE POWER
SPIKE TV
9:30 AM
30
0.08
274
111
NELLA THE PRINCESS KNIGHT
NICK JR
12:30 PM
30
0.08
414
112
AMERICAS NEWS HQ
FOX NEWS CHANNEL
4:00 PM
60
0.08
629
113
MASH
AMC
9:30 AM
30
0.08
488
114
NICE GUYS, THE
MAXPRIME
9:50 PM
116
0.08
167
115
NFL GAMEDAY MORNING: NFL GAMEDAY MORNING
NFL NETWORK
7:00 AM
120
0.08
207
116
FOOD PARADISES
TRAVEL CHANNEL
9:00 PM
60
0.08
286
117
MSNBC LIVE WKND EDITION
MSNBC
3:00 PM
60
0.08
467
118
MSNBC LIVE W/ A.WITT: N/A
MSNBC
12:00 PM
120
0.08
583
119
WEATHER CENTER LIVE
THE WEATHER CHANNEL
7:00 PM
60
0.08
426
120
CNN NEWSROOM
CNN
3:00 PM
60
0.08
452
121
PAID PROGRAM
USA NETWORK
7:00 AM
30
0.08
272
122
NEW DAY SUNDAY
CNN
7:00 AM
60
0.08
585
123
SNAPPED
OXYGEN MEDIA
6:00 PM
60
0.07
354
124
CNN NEWSROOM
CNN
8:00 PM
60
0.07
422
125
WNBA PLAYOFFS           L
ESPN
5:12 PM
119
0.07
254
126
LIGA MX L: VERACRUZ / LOBOS BUAP
UNIVISION DEPORTES
7:00 PM
166
0.07
161
127
WEEKEND EXPRESS
HLN
9:00 AM
60
0.07
275
128
WEEKEND EXPRESS
HLN
7:00 AM
60
0.07
273
129
COLL FTBL SCOREBOARD
ESPNU
10:00 AM
60
0.07
212
130
SOMETHINGS KILLING ME
HLN
9:00 PM
60
0.07
493
131
WEATHER CENTER LIVE
THE WEATHER CHANNEL
10:00 PM
60
0.07
354
132
SALVAGE DAWGS
DIY NETWORK
9:30 PM
30
0.07
369
133
MSNBC LIVE WKND EDITION
MSNBC
7:00 AM
30
0.07
257
134
JOEL OSTEEN
USA NETWORK
8:30 AM
30
0.07
260
135
E:60
ESPN2
9:00 AM
60
0.07
200
136
WEATHER CENTER LIVE
THE WEATHER CHANNEL
8:00 PM
60
0.07
280
137
SUNDAY FILM FESTIVAL: GREY, THE
SUNDANCE TV
6:30 PM
150
0.07
268
138
MSNBC LIVE WKND EDITION
MSNBC
4:00 PM
60
0.07
450
139
TRNING PT W DR D JEREMIAH
USA NETWORK
7:30 AM
30
0.07
218
140
WEATHER CENTER LIVE
THE WEATHER CHANNEL
9:00 PM
60
0.07
289
141
POLITICS NATION
MSNBC
8:00 AM
60
0.07
405
142
TRUCK U
VELOCITY
10:30 AM
30
0.07
183
143
NHRA L: CHARLOTTE
FOX SPORTS 1
2:30 PM
180
0.06
296
144
FOOD PARADISES
TRAVEL CHANNEL
8:00 PM
60
0.06
276
145
NASCAR CUP SERIES PRE
NBC SPORTS NETWORK
1:00 PM
81
0.06
429
146
DATELINE EXTRA
MSNBC
8:00 PM
60
0.06
395
147
MASH
AMC
6:00 AM
30
0.06
190
148
SPORTSCENTER EARLY      L
ESPN
7:11 PM
49
0.06
229
149
MASH
AMC
9:00 AM
30
0.06
440
150
NEW DAY SUNDAY
CNN
6:00 AM
60
0.06
524
PREVIOUS SUNDAY NETWORK SCORECARDS (FAST NATIONALS)
PREVIOUS SUNDAY CABLE & BROADCAST NATIONALS
###