NETWORK FINALS:  The ABC portion of MONDAY NIGHT FOOTBALL adjusted up to 2.0.  In addition, FILTHY RICH and the reruns of THE NEIGHBORHOOD and YOUNG SHELDON gained 0.1 in final numbers.  Some additional detail on the premieres:  LA'S FINEST was consistent throughout its hour, except for an odd 8:30-8:45PM dip, which kept it from hitting 0.6 in finals; FILTHY RICH barely rounded up to 0.5, with quarter-hours of 0.45-0.48; and MANHUNT: DEADLY GAMES almost sagged to 0.2, saved by 0.29 in its first quarter-hour that was likely due to its LOVE ISLAND lead-in. 
Broadcast Official Nationals Program Ratings Chart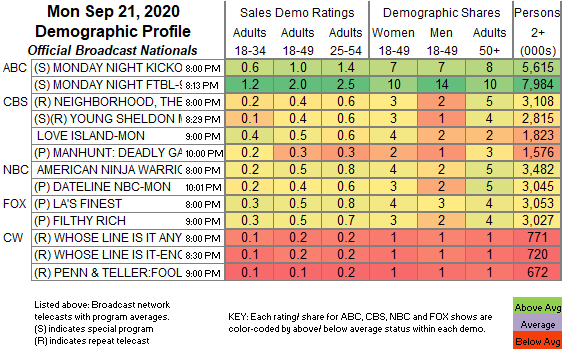 CABLE HIGHLIGHTS:  The ESPN portion of MONDAY NIGHT FOOTBALL was at 2.70, which was down from last week's 3.62/2.92 doubleheader, but of course that wasn't shared with ABC.  Bravo's BELOW DECK rose 0.06 to 0.55.  USA's WWE telecast was at 0.51/0.50/0.48 compared to last week's 0.52/0.52/0.45.  Cable news was led by Fox News's TUCKER CARLSON TONIGHT at 0.43/0.70/4.7M, with MSNBC's RACHEL MADDOW SHOW at 0.21/0.40/2.8M, and CNN's CUOMO PRIME TIME at 0.17/0.25/1.3M.  NBC Sports Net's STANLEY CUP FINALS game was at 0.33.  On Food Network, HALLOWEEN BAKING CHAMPIONSHIP slipped 0.02 to 0.27.  On TLC, 90 DAY FIANCE lost 0.02 to 0.27, and DARCEY & STACEY was down 0.02 to 0.16.  On HGTV, LOVE IT OR LIST IT dropped 0.03 to 0.20.  On Discovery, STREET OUTLAWS was at 0.19/0.13 compared to last week's 0.23/0.16, and BAD CHAD CUSTOMS was down 0.03 to 0.11.  ID's YOUR WORST NIGHTMARE shrank by 0.02 to 0.17.  History's PAWN STARS was at 0.10.  E!'s BOTCHED ticked down to 0.09.  On HBO, THE THIRD DAY was steady at 0.02/183K, and WE ARE WHAT WE ARE ticked down to 0.01/90K. 
Top 50 Original Cable Telecasts with Demographic Detail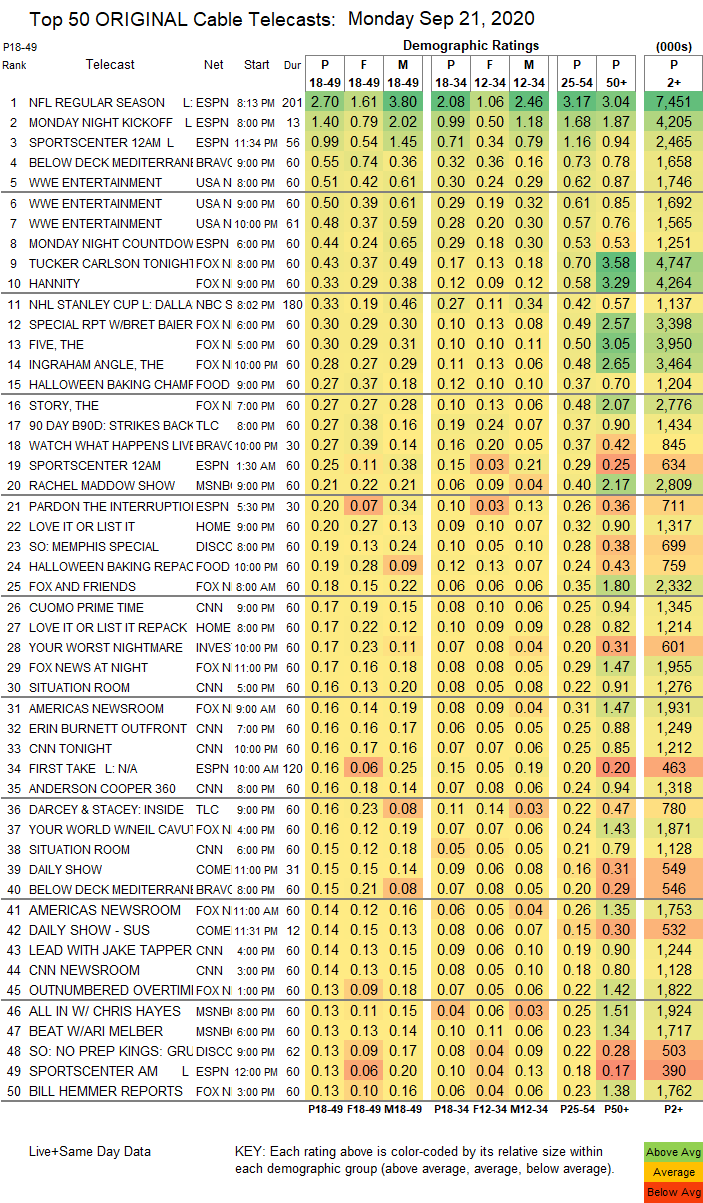 Top 150 Original Cable Telecasts
To search for a show: type Ctrl-F and type your show title in the search box.
Top 150 Original Cable Telecasts: Monday September 21, 2020
P18-49
P2+
Rank
Program
Net
Start
Mins
Rating
(000s)
1
NFL REGULAR SEASON      L: NEW ORLEANS/LAS VEGAS
ESPN
8:13 PM
201
2.70
7,451
2
MONDAY NIGHT KICKOFF    L
ESPN
8:00 PM
13
1.40
4,205
3
SPORTSCENTER 12AM  L
ESPN
11:34 PM
56
0.99
2,465
4
BELOW DECK MEDITERRANEAN
BRAVO
9:00 PM
60
0.55
1,658
5
WWE ENTERTAINMENT
USA NETWORK
8:00 PM
60
0.51
1,746
6
WWE ENTERTAINMENT
USA NETWORK
9:00 PM
60
0.50
1,692
7
WWE ENTERTAINMENT
USA NETWORK
10:00 PM
61
0.48
1,565
8
MONDAY NIGHT COUNTDOWN  L
ESPN
6:00 PM
60
0.44
1,251
9
TUCKER CARLSON TONIGHT
FOX NEWS CHANNEL
8:00 PM
60
0.43
4,747
10
HANNITY
FOX NEWS CHANNEL
9:00 PM
60
0.33
4,264
11
NHL STANLEY CUP L: DALLAS/TAMPA BAY
NBC SPORTS NETWORK
8:02 PM
180
0.33
1,137
12
SPECIAL RPT W/BRET BAIER
FOX NEWS CHANNEL
6:00 PM
60
0.30
3,398
13
FIVE, THE
FOX NEWS CHANNEL
5:00 PM
60
0.30
3,950
14
INGRAHAM ANGLE, THE
FOX NEWS CHANNEL
10:00 PM
60
0.28
3,464
15
HALLOWEEN BAKING CHAMP
FOOD NETWORK
9:00 PM
60
0.27
1,204
16
STORY, THE
FOX NEWS CHANNEL
7:00 PM
60
0.27
2,776
17
90 DAY B90D: STRIKES BACK
TLC
8:00 PM
60
0.27
1,434
18
WATCH WHAT HAPPENS LIVE
BRAVO
10:00 PM
30
0.27
845
19
SPORTSCENTER 12AM
ESPN
1:30 AM
60
0.25
634
20
RACHEL MADDOW SHOW
MSNBC
9:00 PM
60
0.21
2,809
21
PARDON THE INTERRUPTION
ESPN
5:30 PM
30
0.20
711
22
LOVE IT OR LIST IT
HOME AND GARDEN TV
9:00 PM
60
0.20
1,317
23
SO: MEMPHIS SPECIAL
DISCOVERY CHANNEL
8:00 PM
60
0.19
699
24
HALLOWEEN BAKING REPACK
FOOD NETWORK
10:00 PM
60
0.19
759
25
FOX AND FRIENDS
FOX NEWS CHANNEL
8:00 AM
60
0.18
2,332
26
CUOMO PRIME TIME
CNN
9:00 PM
60
0.17
1,345
27
LOVE IT OR LIST IT REPACK
HOME AND GARDEN TV
8:00 PM
60
0.17
1,214
28
YOUR WORST NIGHTMARE
INVESTIGATION DISCOVERY
10:00 PM
60
0.17
601
29
FOX NEWS AT NIGHT
FOX NEWS CHANNEL
11:00 PM
60
0.17
1,955
30
SITUATION ROOM
CNN
5:00 PM
60
0.16
1,276
31
AMERICAS NEWSROOM
FOX NEWS CHANNEL
9:00 AM
60
0.16
1,931
32
ERIN BURNETT OUTFRONT
CNN
7:00 PM
60
0.16
1,249
33
CNN TONIGHT
CNN
10:00 PM
60
0.16
1,212
34
FIRST TAKE   L: N/A
ESPN
10:00 AM
120
0.16
463
35
ANDERSON COOPER 360
CNN
8:00 PM
60
0.16
1,318
36
DARCEY & STACEY: INSIDE
TLC
9:00 PM
60
0.16
780
37
YOUR WORLD W/NEIL CAVUTO
FOX NEWS CHANNEL
4:00 PM
60
0.16
1,871
38
SITUATION ROOM
CNN
6:00 PM
60
0.15
1,128
39
DAILY SHOW
COMEDY CENTRAL
11:00 PM
31
0.15
549
40
BELOW DECK MEDITERRANEAN
BRAVO
8:00 PM
60
0.15
546
41
AMERICAS NEWSROOM
FOX NEWS CHANNEL
11:00 AM
60
0.14
1,753
42
DAILY SHOW – SUS
COMEDY CENTRAL
11:31 PM
12
0.14
532
43
LEAD WITH JAKE TAPPER
CNN
4:00 PM
60
0.14
1,244
44
CNN NEWSROOM
CNN
3:00 PM
60
0.14
1,128
45
OUTNUMBERED OVERTIME
FOX NEWS CHANNEL
1:00 PM
60
0.13
1,822
46
ALL IN W/ CHRIS HAYES
MSNBC
8:00 PM
60
0.13
1,924
47
BEAT W/ARI MELBER
MSNBC
6:00 PM
60
0.13
1,717
48
SO: NO PREP KINGS: GRUDGE
DISCOVERY CHANNEL
9:00 PM
62
0.13
503
49
SPORTSCENTER AM      L
ESPN
12:00 PM
60
0.13
390
50
BILL HEMMER REPORTS
FOX NEWS CHANNEL
3:00 PM
60
0.13
1,762
51
DAILY BRIEFING W/D.PERINO
FOX NEWS CHANNEL
2:00 PM
60
0.13
1,853
52
OUTNUMBERED
FOX NEWS CHANNEL
12:00 PM
60
0.13
1,842
53
CNN NEWSROOM
CNN
1:00 PM
60
0.13
1,010
54
SPORTSCENTER AM      L
ESPN
1:00 PM
61
0.13
325
55
REIDOUT
MSNBC
7:00 PM
60
0.13
1,746
56
CNN NEWSROOM
CNN
2:00 PM
60
0.13
1,065
57
NFL LIVE                L
ESPN
4:00 PM
60
0.12
377
58
AMERICAS NEWSROOM
FOX NEWS CHANNEL
10:00 AM
60
0.12
1,698
59
DOOMSDAY CAUGHT ON CAMERA
TRAVEL CHANNEL
10:00 PM
60
0.12
500
60
GET UP   L: N/A
ESPN
8:00 AM
120
0.12
380
61
LAST WORD W/ L. ODONNELL
MSNBC
10:00 PM
60
0.12
2,185
62
AROUND THE HORN
ESPN
5:00 PM
30
0.12
441
63
CNN TONIGHT
CNN
11:00 PM
60
0.11
850
64
BAD CHAD CUSTOMS
DISCOVERY CHANNEL
10:02 PM
60
0.11
408
65
CNN NEWSROOM
CNN
10:00 AM
60
0.11
814
66
SPORTSCENTER AM      L
ESPN
2:01 PM
59
0.11
299
67
FOX AND FRIENDS
FOX NEWS CHANNEL
7:00 AM
60
0.11
1,703
68
CONAN
TBS NETWORK
11:00 PM
30
0.11
234
69
NFL REWIND   L
ESPN
3:00 PM
60
0.10
288
70
DEADLINE:WHITE HOUSE: N/A
MSNBC
4:00 PM
120
0.10
1,826
71
CNN NEWSROOM
CNN
12:00 PM
60
0.10
905
72
CNN NEWSROOM
CNN
9:00 AM
60
0.10
752
73
CNN NEWSROOM
CNN
11:00 AM
60
0.10
839
74
PAWN STARS
HISTORY
8:00 PM
60
0.10
479
75
11TH HOUR W/B. WILLIAMS
MSNBC
11:00 PM
60
0.10
1,598
76
LIGA MX L: LEON / UNAM
TUDN
9:30 PM
153
0.09
233
77
RIDICULOUSNESS SSN18
MTV
11:00 PM
30
0.09
205
78
BEYOND THE UNKNOWN REPACK: TMOU-3R2R07H
TRAVEL CHANNEL
8:00 PM
120
0.09
441
79
MSNBC LIVE W/ H.JACKSON
MSNBC
10:00 AM
60
0.09
1,022
80
SPORTSCENTER AM      L
ESPN
7:00 AM
60
0.09
282
81
MSNBC LIVE W/ S.RUHLE
MSNBC
9:00 AM
60
0.09
1,034
82
BOTCHED-SP
E!
9:00 PM
60
0.09
346
83
ANDREA MITCHELL REPORTS
MSNBC
12:00 PM
60
0.08
1,008
84
UNDISPUTED L: 1004
FOX SPORTS 1
9:30 AM
150
0.08
196
85
NHL LIVE POST STANLEY CUP
NBC SPORTS NETWORK
11:02 PM
28
0.08
248
86
MSNBC LIVE W/ C.MELVIN
MSNBC
11:00 AM
60
0.08
887
87
RIZZOLI & ISLES
LIFETIME TELEVISION
9:00 PM
61
0.08
694
88
FOX AND FRIENDS
FOX NEWS CHANNEL
6:00 AM
60
0.08
1,173
89
OLLIES PACK
NICKELODEON
4:30 PM
30
0.07
419
90
MTP DAILY
MSNBC
1:00 PM
60
0.07
994
91
MORNING JOE: N/A
MSNBC
6:00 AM
180
0.07
1,169
92
NEW DAY
CNN
8:00 AM
60
0.07
618
93
MSNBC LIVE W/K.TUR
MSNBC
2:00 PM
60
0.07
1,050
94
PAWN STARS
HISTORY
12:03 AM
60
0.07
332
95
MSNBC PRES CAMPAIGN TRAIL
MSNBC
3:33 PM
27
0.07
1,060
96
MORNING EXPRESS W/ MEADE
HLN
6:00 AM
60
0.07
242
97
FAST MONEY HALFTIME RPRT
CNBC
12:00 PM
60
0.06
361
98
NFL LIVE
ESPN2
5:00 PM
60
0.06
124
99
SPORTSCENTER EARLY      L
ESPN2
6:00 PM
60
0.06
154
100
NHL LIVE PRE STANLEY CUP
NBC SPORTS NETWORK
7:00 PM
62
0.06
171
101
EXCHANGE, THE
CNBC
1:00 PM
60
0.06
354
102
SQUAWK ALLEY
CNBC
11:00 AM
60
0.06
333
103
CLEVELAND SHOW, THE
BLACK ENTERTAINMENT TV
12:00 AM
30
0.06
149
104
HERD L: 1317
FOX SPORTS 1
12:00 PM
180
0.06
160
105
MSNBC LIVE W/A.MOHYELDIN
MSNBC
3:00 PM
12
0.06
1,027
106
MARTIN
BLACK ENTERTAINMENT TV
1:00 AM
30
0.06
138
107
NEW DAY
CNN
7:00 AM
60
0.06
516
108
E! NEWS: DAILY POP I
E!
12:30 PM
30
0.06
118
109
MSNBC SPECIAL COVERAGE
MSNBC
3:12 PM
21
0.06
947
110
CLEVELAND SHOW, THE
BLACK ENTERTAINMENT TV
12:30 AM
30
0.06
143
111
SPORTSCENTER PRIME    L
ESPN2
7:00 PM
60
0.05
139
112
POWER LUNCH
CNBC
2:00 PM
60
0.05
327
113
MONDAY NIGHT KICKOFF    L
ESPN2
8:00 PM
15
0.05
171
114
NOTICIAS CON D. MAERKER
GALAVISION
12:30 AM
30
0.05
91
115
HIGHLY QUESTIONABLE
ESPN2
2:30 PM
30
0.05
131
116
MORNING EXPRESS W/ MEADE
HLN
7:00 AM
60
0.05
218
117
JALEN & JACOBY
ESPN2
2:00 PM
30
0.05
124
118
SQUAWK ON THE STREET: N/A
CNBC
9:00 AM
120
0.05
342
119
NFL TOTAL ACCESS
NFL NETWORK
7:00 PM
75
0.05
175
120
NFL NOW
NFL NETWORK
2:00 PM
60
0.04
156
121
FOOD FACTORY
NATIONAL GEOGRAPHIC
1:00 PM
30
0.04
172
122
CLOSING BELL: N/A
CNBC
3:00 PM
120
0.04
285
123
NFL FILMS PRESENTS
NFL NETWORK
8:15 PM
30
0.04
136
124
CASO CERRADO
UNIVERSO
7:00 PM
60
0.04
141
125
FOOD FACTORY
NATIONAL GEOGRAPHIC
12:30 PM
30
0.04
134
126
AFTERMATH: N/A
NFL NETWORK
3:00 PM
180
0.04
144
127
DUCKTALES (2017)
DISNEY XD
7:00 PM
30
0.04
114
128
FOOD FACTORY
NATIONAL GEOGRAPHIC
2:00 PM
30
0.04
171
129
NFL FANTASY LIVE
NFL NETWORK
6:00 PM
60
0.04
145
130
SCIENCE OF STUPID
NATIONAL GEOGRAPHIC
9:00 PM
30
0.04
215
131
SCIENCE OF STUPID
NATIONAL GEOGRAPHIC
9:30 PM
33
0.04
230
132
NFL NOW
NFL NETWORK
1:00 PM
60
0.04
150
133
CASO CERRADO
UNIVERSO
6:00 PM
60
0.04
104
134
10 THINGS YOU DONT KNOW
E!
10:00 PM
30
0.04
148
135
NEW DAY
CNN
6:00 AM
60
0.04
386
136
FAST MONEY
CNBC
5:00 PM
60
0.04
237
137
MAD MONEY
CNBC
6:00 PM
60
0.03
265
138
CONTACTO DEPORTIVO
TUDN
12:03 AM
57
0.03
75
139
BRAIN GAMES COMPILATIONS
NATIONAL GEOGRAPHIC
8:00 PM
60
0.03
180
140
LIFETIME SPECIAL
LIFETIME MOVIE NETWORK
10:00 PM
60
0.03
177
141
SPEAK FOR YOURSELF L: 966
FOX SPORTS 1
3:00 PM
120
0.03
81
142
BIG HERO 6 SERIES
DISNEY XD
7:30 PM
30
0.03
115
143
FIRST TAKE: N/A
ESPN2
12:00 PM
120
0.03
99
144
FOOD FACTORY
NATIONAL GEOGRAPHIC
2:30 PM
30
0.03
183
145
LAW & ORDER
BBC-AMERICA
8:00 PM
60
0.03
236
146
RIZZOLI & ISLES
LIFETIME TELEVISION
1:01 AM
61
0.03
270
147
LAW & ORDER
BBC-AMERICA
12:00 AM
60
0.03
120
148
CASO CERRADO
UNIVERSO
8:00 PM
60
0.03
118
149
GOOD MORNING FOOTBALL: N/A
NFL NETWORK
7:00 AM
180
0.03
100
150
GET UP: N/A
ESPN2
10:00 AM
120
0.03
124
PREVIOUS MONDAY NETWORK SCORECARDS (FAST NATIONALS)
PREVIOUS MONDAY CABLE & BROADCAST NATIONALS
NEWS & LATE NIGHT BROADCAST RATINGS
###