NETWORK FINALS:  After adjustment for MONDAY  NIGHT FOOTBALL preemptions, DANCING WITH THE STARS and THE GOOD DOCTOR both dropped 0.2, and the reruns of ALL AMERICAN and BLACK LIGHTNING were both down 0.1.  
Broadcast Official Nationals Program Ratings Chart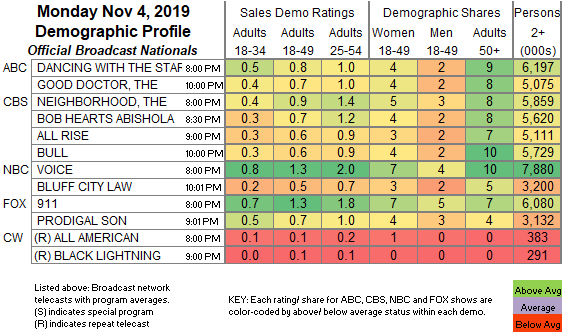 CABLE HIGHLIGHTS:  HBO's HIS DARK MATERIALS premiered at a low 0.11, and CATHERINE THE GREAT ticked up to 0.05.  
ESPN's MONDAY NIGHT FOOTBALL was at 4.54, up a big 1.41 from last week's game.  USA's WWE telecast was at 0.83/0.79/0.65, compared to last week's 0.79/0.72/0.65.  Bravo's BELOW DECK edged up 0.02 to 0.55.  On VH1, LOVE & HIP-HOP slipped 0.02 to 0.50, and CARTEL CREW was up 0.04 to 0.29.  On Discovery, STREET OUTLAWS was at 0.33, compared to last week's 0.30/0.25.  On Food Network, HOLIDAY BAKING CHAMPIONSHIP returned at 0.28/0.24, and CHRISTMAS COOKIE CHALLENGE was at 0.17.  Fox News's TUCKER CARLSON TONIGHT led cable news at 0.28/0.47/3.3M, with MSNBC's RACHEL MADDOW SHOW at 0.24/0.41/2.9M, and CNN's SITUATION ROOM was at 0.14/0.22/1M.  On ID, PEOPLE MAGAZINE INVESTIGATES returned at 0.25, and THE DEVIL SPEAKS was at 9,21,  HGTV's ROCK THE BLOCK was at 0.20/0.16 compared to last week's 0.25/0.17, and HOUSE HUNTERS INTL held at 0.15.  A&E's LIVE RESCUE was steady at 0.17.  On History, AMERICAN PICKERS dropped 0.04 to 0.15, and PAWN STARS was steady at 0.13.  E!'s BOTCHED was at 0.12.  
Top 50 Original Cable Telecasts with Demographic Detail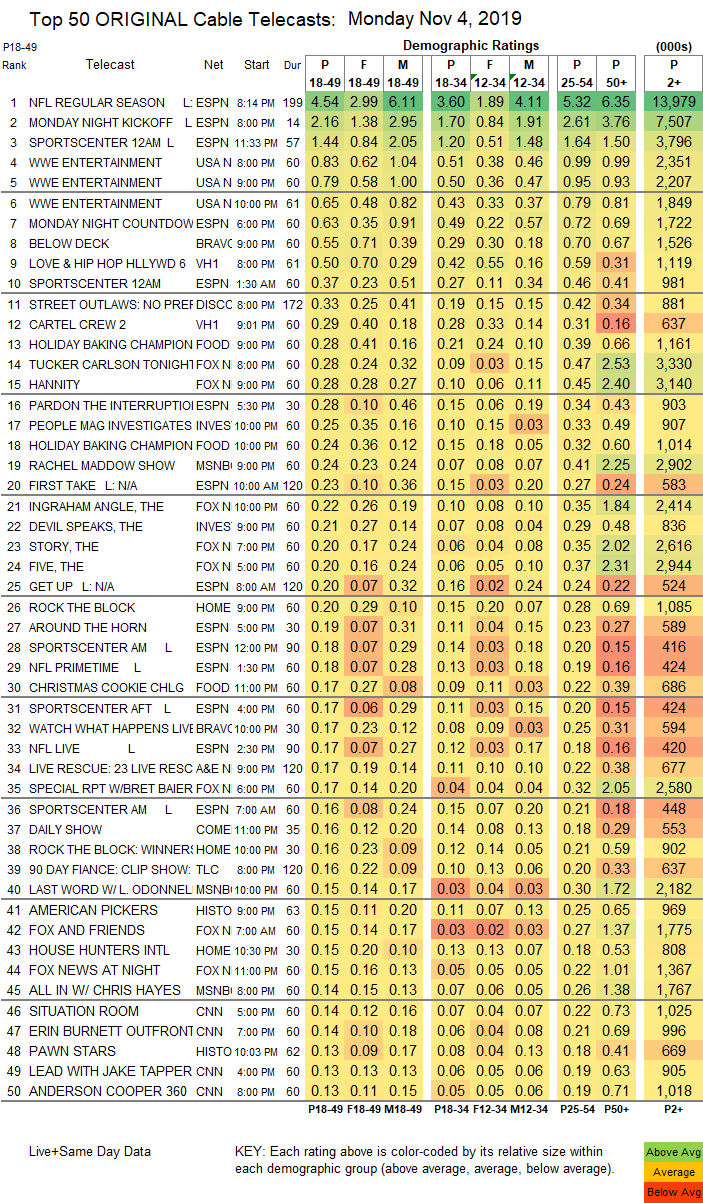 Top 150 Original Cable Telecasts
To search for a show: type Ctrl-F and type your show title in the search box.
Top 100 Original Cable Telecasts: Monday November 4, 2019
P18-49
P2+
Rank
Program
Net
Start
Mins
Rating
(000s)
1
NFL REGULAR SEASON      L: DALLAS/NY GIANTS
ESPN
8:14 PM
199
4.54
13,979
2
MONDAY NIGHT KICKOFF    L
ESPN
8:00 PM
14
2.16
7,507
3
SPORTSCENTER 12AM  L
ESPN
11:33 PM
57
1.44
3,796
4
WWE ENTERTAINMENT
USA NETWORK
8:00 PM
60
0.83
2,351
5
WWE ENTERTAINMENT
USA NETWORK
9:00 PM
60
0.79
2,207
6
WWE ENTERTAINMENT
USA NETWORK
10:00 PM
61
0.65
1,849
7
MONDAY NIGHT COUNTDOWN  L
ESPN
6:00 PM
60
0.63
1,722
8
BELOW DECK
BRAVO
9:00 PM
60
0.55
1,526
9
LOVE & HIP HOP HLLYWD 6
VH1
8:00 PM
61
0.50
1,119
10
SPORTSCENTER 12AM
ESPN
1:30 AM
60
0.37
981
11
STREET OUTLAWS: NO PREP: N/A
DISCOVERY CHANNEL
8:00 PM
172
0.33
881
12
CARTEL CREW 2
VH1
9:01 PM
60
0.29
637
13
HOLIDAY BAKING CHAMPION
FOOD NETWORK
9:00 PM
60
0.28
1,161
14
TUCKER CARLSON TONIGHT
FOX NEWS CHANNEL
8:00 PM
60
0.28
3,330
15
HANNITY
FOX NEWS CHANNEL
9:00 PM
60
0.28
3,140
16
PARDON THE INTERRUPTION
ESPN
5:30 PM
30
0.28
903
17
PEOPLE MAG INVESTIGATES
INVESTIGATION DISCOVERY
10:00 PM
60
0.25
907
18
HOLIDAY BAKING CHAMPION
FOOD NETWORK
10:00 PM
60
0.24
1,014
19
RACHEL MADDOW SHOW
MSNBC
9:00 PM
60
0.24
2,902
20
FIRST TAKE   L: N/A
ESPN
10:00 AM
120
0.23
583
21
INGRAHAM ANGLE, THE
FOX NEWS CHANNEL
10:00 PM
60
0.22
2,414
22
DEVIL SPEAKS, THE
INVESTIGATION DISCOVERY
9:00 PM
60
0.21
836
23
STORY, THE
FOX NEWS CHANNEL
7:00 PM
60
0.20
2,616
24
FIVE, THE
FOX NEWS CHANNEL
5:00 PM
60
0.20
2,944
25
GET UP   L: N/A
ESPN
8:00 AM
120
0.20
524
26
ROCK THE BLOCK
HOME AND GARDEN TV
9:00 PM
60
0.20
1,085
27
AROUND THE HORN
ESPN
5:00 PM
30
0.19
589
28
SPORTSCENTER AM      L
ESPN
12:00 PM
90
0.18
416
29
NFL PRIMETIME     L
ESPN
1:30 PM
60
0.18
424
30
CHRISTMAS COOKIE CHLG
FOOD NETWORK
11:00 PM
60
0.17
686
31
SPORTSCENTER AFT    L
ESPN
4:00 PM
60
0.17
424
32
WATCH WHAT HAPPENS LIVE
BRAVO
10:00 PM
30
0.17
594
33
NFL LIVE                L
ESPN
2:30 PM
90
0.17
420
34
LIVE RESCUE: 23 LIVE RESCUE
A&E NETWORK
9:00 PM
120
0.17
677
35
SPECIAL RPT W/BRET BAIER
FOX NEWS CHANNEL
6:00 PM
60
0.17
2,580
36
SPORTSCENTER AM      L
ESPN
7:00 AM
60
0.16
448
37
DAILY SHOW
COMEDY CENTRAL
11:00 PM
35
0.16
553
38
ROCK THE BLOCK: WINNERS
HOME AND GARDEN TV
10:00 PM
30
0.16
902
39
90 DAY FIANCE: CLIP SHOW: N/A
TLC
8:00 PM
120
0.16
637
40
LAST WORD W/ L. ODONNELL
MSNBC
10:00 PM
60
0.15
2,182
41
AMERICAN PICKERS
HISTORY
9:00 PM
63
0.15
969
42
FOX AND FRIENDS
FOX NEWS CHANNEL
7:00 AM
60
0.15
1,775
43
HOUSE HUNTERS INTL
HOME AND GARDEN TV
10:30 PM
30
0.15
808
44
FOX NEWS AT NIGHT
FOX NEWS CHANNEL
11:00 PM
60
0.15
1,367
45
ALL IN W/ CHRIS HAYES
MSNBC
8:00 PM
60
0.14
1,767
46
SITUATION ROOM
CNN
5:00 PM
60
0.14
1,025
47
ERIN BURNETT OUTFRONT
CNN
7:00 PM
60
0.14
996
48
PAWN STARS
HISTORY
10:03 PM
62
0.13
669
49
LEAD WITH JAKE TAPPER
CNN
4:00 PM
60
0.13
905
50
ANDERSON COOPER 360
CNN
8:00 PM
60
0.13
1,018
51
CNN TONIGHT
CNN
11:00 PM
60
0.13
687
52
CONAN
TBS NETWORK
11:00 PM
30
0.13
248
53
BOTCHED
E!
10:00 PM
60
0.12
493
54
SITUATION ROOM
CNN
6:00 PM
60
0.12
880
55
AMC MOVIE: LORD OF THE RINGS RETURN
AMC
7:00 PM
270
0.12
414
56
YOUR WORLD W/NEIL CAVUTO
FOX NEWS CHANNEL
4:00 PM
60
0.12
1,530
57
FOX AND FRIENDS
FOX NEWS CHANNEL
6:00 AM
60
0.12
1,336
58
FOX AND FRIENDS
FOX NEWS CHANNEL
8:00 AM
60
0.12
1,970
59
OUTNUMBERED OVERTIME
FOX NEWS CHANNEL
1:00 PM
60
0.11
1,364
60
OUTNUMBERED
FOX NEWS CHANNEL
12:00 PM
60
0.11
1,617
61
AMERICAS NEWSROOM
FOX NEWS CHANNEL
9:00 AM
60
0.11
1,797
62
HARDBALL WITH C. MATTHEWS
MSNBC
7:00 PM
60
0.11
1,741
63
FOX NEWS REPORTING.
FOX NEWS CHANNEL
3:00 PM
60
0.11
1,385
64
BEAT W/ARI MELBER
MSNBC
6:00 PM
60
0.11
1,810
65
HIS DARK MATERIALS
HBO PRIME
9:00 PM
57
0.11
424
66
CNN RIGHT NOW
CNN
1:00 PM
60
0.11
826
67
CNN NEWSROOM
CNN
3:00 PM
60
0.11
832
68
AMERICAS NEWSROOM
FOX NEWS CHANNEL
10:00 AM
60
0.11
1,643
69
CNN NEWSROOM
CNN
2:00 PM
60
0.11
848
70
CNN TONIGHT
CNN
10:00 PM
60
0.11
849
71
CNN NEWSROOM
CNN
10:00 AM
60
0.10
692
72
11TH HOUR W/B. WILLIAMS
MSNBC
11:00 PM
60
0.10
1,598
73
DEADLINE:WHITE HOUSE
MSNBC
4:00 PM
60
0.10
1,843
74
IJ: INSIDE JOKES
TRUTV
10:00 PM
30
0.10
246
75
CASH CAB
BRAVO
11:30 PM
30
0.10
302
76
MTP DAILY
MSNBC
5:00 PM
60
0.09
1,675
77
DAILY BRIEFING W/D.PERINO
FOX NEWS CHANNEL
2:00 PM
60
0.09
1,328
78
ANDERSON COOPER 360
CNN
9:00 PM
60
0.09
892
79
AMERICAS NEWSROOM
FOX NEWS CHANNEL
11:00 AM
60
0.09
1,469
80
NEW DAY
CNN
7:00 AM
60
0.09
598
81
LIGHTS OUT
COMEDY CENTRAL
11:35 PM
30
0.09
216
82
HOLIDAY BAKING CHAMPION
FOOD NETWORK
1:00 AM
60
0.09
382
83
CNN NEWSROOM
CNN
9:00 AM
60
0.09
670
84
MY HORROR STORY
TRAVEL CHANNEL
10:00 PM
60
0.09
309
85
NEW DAY
CNN
8:00 AM
60
0.09
629
86
E! NEWS
E!
7:00 PM
60
0.08
275
87
UNDISPUTED L: 790
FOX SPORTS 1
9:30 AM
150
0.08
235
88
BLUEY
DISNEY CHANNEL
7:30 AM
22
0.08
377
89
PARANORMAL EMERGENCY
TRAVEL CHANNEL
9:00 PM
60
0.08
313
90
INSIDE POLITICS
CNN
12:00 PM
60
0.08
660
91
SPORTSCENTER EARLY      L
ESPN2
6:00 PM
60
0.08
207
92
AT THIS HOUR
CNN
11:00 AM
60
0.08
593
93
NBA REGULAR SEASON   L: PORTLAND/GOLDEN STATE
NBA-TV
10:32 PM
155
0.08
256
94
NEW DAY
CNN
6:00 AM
60
0.07
519
95
ANDREA MITCHELL REPORTS
MSNBC
12:00 PM
60
0.07
1,081
96
MSNBC LIVE W/ S.RUHLE
MSNBC
9:00 AM
60
0.07
1,101
97
MSNBC LIVE W/ A.VELSHI
MSNBC
3:00 PM
60
0.07
1,046
98
MSNBC LIVE W/K.TUR
MSNBC
2:00 PM
60
0.07
951
99
MSNBC LIVE W/ H.JACKSON
MSNBC
10:00 AM
60
0.07
931
100
HIGHLY QUESTIONABLE
ESPN2
4:30 PM
30
0.07
188
101
MORNING JOE: N/A
MSNBC
6:00 AM
180
0.07
1,143
102
MSNBC LIVE W/VELSHI&RUHLE
MSNBC
1:00 PM
60
0.07
1,029
103
HERD L: 1105
FOX SPORTS 1
12:00 PM
180
0.06
204
104
NBA REGULAR SEASON   L: NEW ORLEANS/BROOKLYN
NBA-TV
7:26 PM
161
0.06
185
105
MSNBC LIVE W/ C.MELVIN
MSNBC
11:00 AM
60
0.06
928
106
NBA GAMETIME LIVE
NBA-TV
10:07 PM
25
0.06
154
107
HIGH NOON (9AM PACIFIC)
ESPN2
4:00 PM
30
0.06
140
108
NFL LIVE
ESPN2
5:00 PM
60
0.06
145
109
NBA: THE JUMP L
ESPN2
3:00 PM
60
0.05
139
110
FIRST TAKE: N/A
ESPN2
12:00 PM
120
0.05
152
111
AFTERMATH: N/A
NFL NETWORK
3:00 PM
180
0.05
141
112
LOST CITIES W ALBERT LIN
NATIONAL GEOGRAPHIC
9:00 PM
60
0.05
404
113
CATHERINE THE GREAT
HBO PRIME
10:00 PM
60
0.05
311
114
SPEAK FOR YOURSELF L
FOX SPORTS 1
3:00 PM
90
0.05
155
115
NFL NOW
NFL NETWORK
1:00 PM
60
0.05
138
116
NIGHTLY POP
E!
11:00 PM
30
0.05
178
117
BOTCHED-SP
E!
12:30 AM
30
0.05
158
118
SPECIAL AUDIENCE PROGRAM
BLACK ENTERTAINMENT TV
6:00 AM
60
0.05
81
119
CATCH 21 (2019)
GSN
6:00 PM
30
0.05
420
120
FATAL ATTRACTION
TV ONE
9:00 PM
60
0.04
130
121
NBA POSTGAME SHOW
NBA-TV
1:07 AM
53
0.04
132
122
GOOD MORNING FOOTBALL: N/A
NFL NETWORK
7:00 AM
180
0.04
126
123
ULTIMATE SURVIVAL WWII
NATIONAL GEOGRAPHIC
10:00 PM
60
0.04
241
124
E! NEWS: DAILY POP I
E!
12:00 PM
60
0.04
107
125
HOME & FAMILY: N/A
HALLMARK CHANNEL
10:00 AM
120
0.04
285
126
BEST THING I EVER ATE
COOKING CHANNEL
9:00 PM
30
0.04
153
127
NFL FANTASY LIVE
NFL NETWORK
6:00 PM
60
0.04
159
128
MORNING EXPRESS W/ MEADE
HLN
6:00 AM
60
0.04
201
129
SPORTSCENTER AM      L
ESPN2
9:00 AM
60
0.04
121
130
BEST THING I EVER ATE
COOKING CHANNEL
8:00 PM
60
0.04
117
131
NFL NOW
NFL NETWORK
2:00 PM
60
0.04
118
132
NFL TOTAL ACCESS
NFL NETWORK
7:00 PM
75
0.04
129
133
FIRST THINGS FIRST-S L: 555
FOX SPORTS 1
6:30 AM
180
0.04
110
134
JALEN & JACOBY
ESPN2
2:00 PM
60
0.04
100
135
GET UP: N/A
ESPN2
10:00 AM
120
0.04
116
136
NOTICIAS CON D. MAERKER
GALAVISION
12:30 AM
30
0.04
84
137
CASO CERRADO
UNIVERSO
6:00 PM
60
0.04
129
138
BEST THING I EVER ATE
COOKING CHANNEL
12:00 AM
60
0.03
113
139
NFL TOTAL ACCESS
NFL NETWORK
12:00 AM
60
0.03
117
140
NCIS: NEW ORLEANS
POP
10:00 PM
60
0.03
162
141
SPORTSCENTER PRIME    L
ESPN2
7:00 PM
60
0.03
141
142
AMERICA SAYS
GSN
9:00 PM
30
0.03
265
143
MORNING EXPRESS W/ MEADE
HLN
7:00 AM
60
0.03
201
144
NFL TOTAL ACCESS
NFL NETWORK
11:15 PM
45
0.03
75
145
NBA GAMETIME
NBA-TV
2:00 AM
30
0.03
83
146
MORNING EXPRESS W/ MEADE
HLN
8:00 AM
60
0.03
184
147
NCIS: NEW ORLEANS
POP
12:00 AM
60
0.03
107
148
NCIS: NEW ORLEANS
POP
11:00 PM
60
0.03
119
149
SPORTSCENTER AM      L
ESPN2
8:00 AM
60
0.02
96
150
VICE: CULTS AND BELIEF
VICELAND
9:00 PM
60
0.02
102
PREVIOUS MONDAY NETWORK SCORECARDS (FAST NATIONALS)
PREVIOUS MONDAY CABLE & BROADCAST NATIONALS
###