Check out our searchable table for the top 100 cable originals at the bottom of the post.
NETWORK UPDATE:  THE EMMY AWARDS gained 0.4 in final numbers to 3.6, and SUNDAY NIGHT FOOTBALL adjusted up to 9.7.  After football adjustment, 60 MINUTES fell 0.4 to 1.2, and the MADAM SECRETARY rerun was down 0.2.  
CABLE HIGHLIGHTS:  AMC's FEAR THE WALKING DEAD was once again on top of Sunday cable, although down 0.31 from last week to 3.31.  RICK & MORTY (Adult Swim) slipped 0.03 to 0.97, and YOUR PRETTY FACE similarly was down 0.05 to 0.45.  VH1's BASKETBALL WIVES dropped 0.04 to 0.64.  THE STRAIN (FX) climbed 0.07 to 0.63.  KEEPING UP THE KARDASHIANS returned to E! at 0.57, with DASH DOLLS at 0.23 and HOUSE OF DVF at a dismal 0.09.  A NASCAR race on NBC Sports Net was at 0.55.  On Bravo, DON'T BE TARDY was up 0.03 to 0.47, MARRIED TO MEDICINE jumped 0.11 to 0.46, and MANZOD WITH CHILDREN grew by 0.03 to 0.38.  TLC's SISTER WIVES was at 0.35.  On Showtime, RAY DONOVAN edged down 0.02 to 0.43, and MASTERS OF SEX ticked up to 0.13.  HBO may have swept the Emmys, but its early-fall line-up continues to founder, as PROJECT GREENLIGHT lost a hundredth to 0.04 with 113K total viewers, and DOLL AND EM was even worse, down 0.04 to 0.02, with 65K total viewers.    BIG BROTHER AFTER DARK (POP) was at 0.03/96K.
Top 40 Original Cable Telecasts with Demographic Detail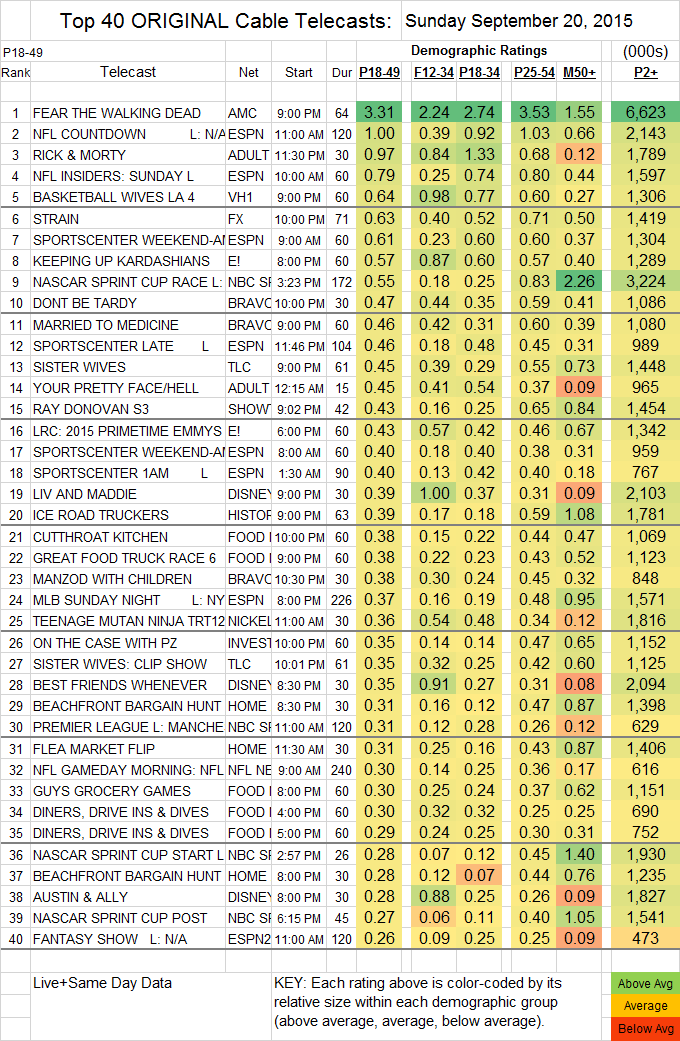 Top 100 Original Cable Telecasts
To search for a show: type Ctrl-F and type your show title in the search box.
Top 100 Original Cable Telecasts: Sunday September 20, 2015
P18-49
P2+
Rank
Program
Net
Start
Mins
Rating
(000s)
1
FEAR THE WALKING DEAD
AMC
9:00 PM
64
3.31
6,623
2
NFL COUNTDOWN           L: N/A
ESPN
11:00 AM
120
1.00
2,143
3
RICK & MORTY
ADULT SWIM
11:30 PM
30
0.97
1,789
4
NFL INSIDERS: SUNDAY L
ESPN
10:00 AM
60
0.79
1,597
5
BASKETBALL WIVES LA 4
VH1
9:00 PM
60
0.64
1,306
6
STRAIN
FX
10:00 PM
71
0.63
1,419
7
SPORTSCENTER WEEKEND-AM L
ESPN
9:00 AM
60
0.61
1,304
8
KEEPING UP KARDASHIANS
E!
8:00 PM
60
0.57
1,289
9
NASCAR SPRINT CUP RACE L: CHICAGOLAND
NBC SPORTS NETWORK
3:23 PM
172
0.55
3,224
10
DONT BE TARDY
BRAVO
10:00 PM
30
0.47
1,086
11
MARRIED TO MEDICINE
BRAVO
9:00 PM
60
0.46
1,080
12
SPORTSCENTER LATE       L
ESPN
11:46 PM
104
0.46
989
13
SISTER WIVES
TLC
9:00 PM
61
0.45
1,448
14
YOUR PRETTY FACE/HELL
ADULT SWIM
12:15 AM
15
0.45
965
15
RAY DONOVAN S3
SHOWTIME PRIME
9:02 PM
42
0.43
1,454
16
LRC: 2015 PRIMETIME EMMYS
E!
6:00 PM
60
0.43
1,342
17
SPORTSCENTER WEEKEND-AM L
ESPN
8:00 AM
60
0.40
959
18
SPORTSCENTER 1AM        L
ESPN
1:30 AM
90
0.40
767
19
LIV AND MADDIE
DISNEY CHANNEL
9:00 PM
30
0.39
2,103
20
ICE ROAD TRUCKERS
HISTORY
9:00 PM
63
0.39
1,781
21
CUTTHROAT KITCHEN
FOOD NETWORK
10:00 PM
60
0.38
1,069
22
GREAT FOOD TRUCK RACE 6
FOOD NETWORK
9:00 PM
60
0.38
1,123
23
MANZOD WITH CHILDREN
BRAVO
10:30 PM
30
0.38
848
24
MLB SUNDAY NIGHT        L: NY YANKEES/NY METS
ESPN
8:00 PM
226
0.37
1,571
25
TEENAGE MUTAN NINJA TRT12
NICKELODEON
11:00 AM
30
0.36
1,816
26
ON THE CASE WITH PZ
INVESTIGATION DISCOVERY
10:00 PM
60
0.35
1,152
27
SISTER WIVES: CLIP SHOW
TLC
10:01 PM
61
0.35
1,125
28
BEST FRIENDS WHENEVER
DISNEY CHANNEL
8:30 PM
30
0.35
2,094
29
BEACHFRONT BARGAIN HUNT
HOME AND GARDEN TV
8:30 PM
30
0.31
1,398
30
PREMIER LEAGUE L: MANCHESTER UNITED/SOUTHAMPTON
NBC SPORTS NETWORK
11:00 AM
120
0.31
629
31
FLEA MARKET FLIP
HOME AND GARDEN TV
11:30 AM
30
0.31
1,406
32
NFL GAMEDAY MORNING: NFL GAMEDAY MORNING
NFL NETWORK
9:00 AM
240
0.30
616
33
GUYS GROCERY GAMES
FOOD NETWORK
8:00 PM
60
0.30
1,151
34
DINERS, DRIVE INS & DIVES
FOOD NETWORK
4:00 PM
60
0.30
690
35
DINERS, DRIVE INS & DIVES
FOOD NETWORK
5:00 PM
60
0.29
752
36
NASCAR SPRINT CUP START L
NBC SPORTS NETWORK
2:57 PM
26
0.28
1,930
37
BEACHFRONT BARGAIN HUNT
HOME AND GARDEN TV
8:00 PM
30
0.28
1,235
38
AUSTIN & ALLY
DISNEY CHANNEL
8:00 PM
30
0.28
1,827
39
NASCAR SPRINT CUP POST
NBC SPORTS NETWORK
6:15 PM
45
0.27
1,541
40
FANTASY SHOW   L: N/A
ESPN2
11:00 AM
120
0.26
473
41
OPEN CONCEPT
HOME AND GARDEN TV
2:00 PM
60
0.26
1,167
42
WATCH WHAT HAPPENS LIVE
BRAVO
11:00 PM
30
0.23
576
43
DASH DOLLS
E!
9:00 PM
60
0.23
570
44
NFL GAMEDAY LIVE: NFL GAMEDAY LIVE
NFL NETWORK
1:00 PM
210
0.22
498
45
WICKED TUNA: OUTER BANKS
NATIONAL GEOGRAPHIC CHNL
9:00 PM
60
0.21
724
46
VACATION HOUSE FOR FREE
HOME AND GARDEN TV
12:00 PM
60
0.21
1,056
47
NFL GAMEDAY HIGHLIGHTS
NFL NETWORK
7:30 PM
60
0.21
504
48
WNBA PLAYOFFS           L: NY LIBERTY/WASH.MYSTICS
ESPN
1:00 PM
120
0.20
512
49
MARVELS AVENGERS ASSEMBLE
DISNEY XD
8:30 AM
30
0.19
523
50
DINERS, DRIVE INS & DIVES
FOOD NETWORK
3:00 PM
60
0.19
534
51
GIADA IN ITALY
FOOD NETWORK
11:00 AM
30
0.18
694
52
REAL HOUSEWIVES OF NYC
BRAVO
12:30 PM
90
0.17
311
53
NFL GAMEDAY FINAL
NFL NETWORK
12:00 AM
90
0.17
333
54
RUGGED JUSTICE
ANIMAL PLANET
8:00 PM
61
0.17
590
55
PREMIER LG LIVE STUDIO
USA NETWORK
10:25 AM
31
0.16
336
56
SPORTSCENTER EARLY      L
ESPN
7:08 PM
52
0.15
494
57
LIGA MX (EF) SUN: GUADALAJARA / QUERETARO
UNIVISION DEPORTES
5:50 PM
130
0.15
339
58
COUNTDOWN: 2015 EMMYS
E!
4:30 PM
90
0.15
462
59
ICE LAKE REBELS
ANIMAL PLANET
10:02 PM
61
0.14
569
60
MASTERS OF SEX S3
SHOWTIME PRIME
10:02 PM
51
0.13
548
61
SPORTSCENTER EARLY      L
ESPN2
8:00 PM
30
0.13
465
62
NIGHT AT THE MUSEUM:SECRE
HBO PRIME
8:15 PM
97
0.13
352
63
BIG TIME RV
TRAVEL CHANNEL
8:00 PM
30
0.13
442
64
F1 RACING L: SINGAPORE
NBC SPORTS NETWORK
7:30 AM
165
0.13
510
65
NASCAR SC COUNTDOWN GREEN
NBC SPORTS NETWORK
2:32 PM
25
0.13
908
66
PAID PROGRAM
USA NETWORK
6:00 AM
30
0.13
440
67
WNBA PLAYOFFS           L: MINNESOTA/LOS ANGELES
ESPN
3:00 PM
131
0.13
356
68
PREMIER LEAGUE L: NORWICH CITY/LIVERPOOL
USA NETWORK
10:56 AM
124
0.13
320
69
POWERNATION: ENGINE POWER
SPIKE TV
9:30 AM
30
0.12
353
70
PREMIER LEAGUE L: CRYSTAL PALACE/TOTTENHAM
USA NETWORK
8:23 AM
122
0.12
304
71
NFL GAMEDAY LIVE: NFL GAMEDAY LIVE
NFL NETWORK
4:30 PM
180
0.12
316
72
POWERNATION: DETRO MUSCLE
SPIKE TV
10:30 AM
30
0.12
349
73
POWERNATION: TRUCK TECH
SPIKE TV
10:00 AM
30
0.12
337
74
PORT PROTECTION
NATIONAL GEOGRAPHIC CHNL
10:00 PM
60
0.12
575
75
WEEKEND EXPRESS
HLN
7:00 AM
60
0.11
333
76
CENTER STAGE
HBO PRIME
8:00 AM
115
0.11
205
77
MLS REGULAR SEASON      L
ESPN
5:11 PM
117
0.11
299
78
PAID PROGRAM
USA NETWORK
6:30 AM
30
0.11
348
79
2016 HORSERACE:WHO WON WK
FOX NEWS CHANNEL
9:00 PM
60
0.11
863
80
PREMIER LEAGUE GOAL ZONE
NBC SPORTS NETWORK
1:00 PM
30
0.11
226
81
FOX & FRIENDS SUNDAY
FOX NEWS CHANNEL
8:00 AM
60
0.11
1,145
82
FAREED ZAKARIA: GPS
CNN
10:00 AM
60
0.10
582
83
LARRYMANIA S4
NBC UNIVERSO
12:00 AM
60
0.10
139
84
POWERNATION: EXT OFF ROAD
SPIKE TV
9:00 AM
30
0.10
276
85
SNAPPED
OXYGEN MEDIA
9:00 PM
60
0.09
339
86
HOUSE OF DVF
E!
10:00 PM
60
0.09
268
87
UCL MAGAZINE
FOX SPORTS 2
1:30 PM
30
0.09
165
88
SNAPPED: SHE MADE ME FL
OXYGEN MEDIA
10:00 PM
15
0.09
322
89
COLLEGE FOOTBALL SUNDAY L: N/A
ESPNU
8:00 AM
120
0.09
243
90
LARRYMANIA S4
NBC UNIVERSO
9:00 PM
60
0.08
131
91
ALASKA HAUNTING
DESTINATION AMERICA
10:00 PM
60
0.08
255
92
PGA TOUR
GOLF CHANNEL
12:00 PM
113
0.08
597
93
STATE OF THE UNION
CNN
9:00 AM
60
0.08
632
94
LARRYMANIA S4
NBC UNIVERSO
1:00 AM
60
0.08
111
95
SPORTSCENTER WEEKEND-AM L
ESPN2
10:00 AM
60
0.08
265
96
PRIME MOVIE 1: FACE/OFF
IFC TV
8:00 PM
180
0.08
153
97
BELLE
HBO PRIME
10:00 AM
103
0.08
160
98
NFL GAMEDAY FIRST: NFL GAMEDAY FIRST
NFL NETWORK
7:00 AM
120
0.08
170
99
PAID PROGRAM
USA NETWORK
7:00 AM
30
0.08
279
100
USA SOCCER WOMEN        L: USA/HAITI
ESPN2
3:00 PM
127
0.08
173
###