The third night of the Republican National Convention totaled 22.8 million viewers 2+ across the three broadcast networks and three cable news channels, well above the 19.4 million on Tuesday and a touch above the 22.5 million Monday.  Compared to prior conventions, last night was above the third night of 2012 but below 2008 with both total viewers (2+) and the news sales demographic (25-54).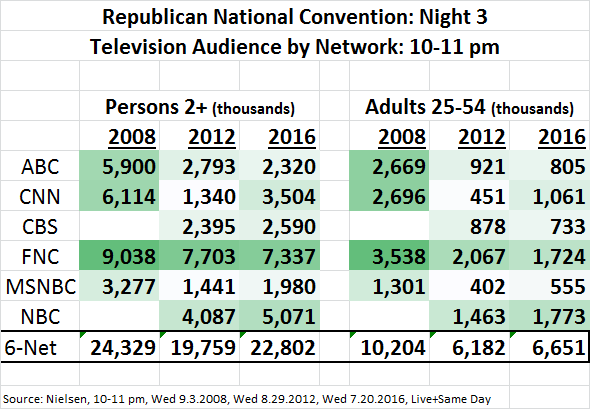 Similarly, the RNC average through the first three nights is pacing slightly ahead of 2012 but well behind 2008 in both viewers 2+ and especially adults 25-54.  Fox News Channel remains #1 with viewers 2+, and NBC is holding on to #1 with 25-54 year-olds.  CNN is in third place with both 2+ and 25-54, while ABC is #4, CBS is #5 and MSNBC #6.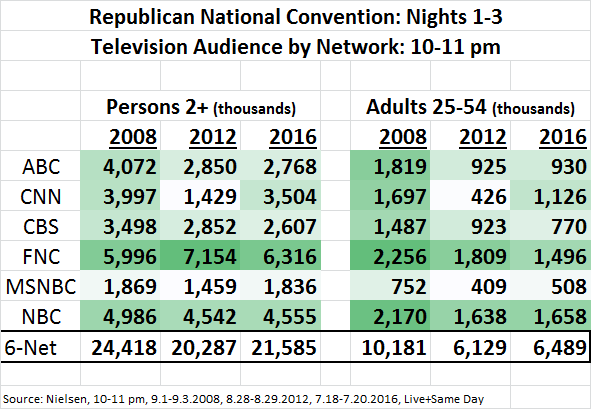 ###
About the Author
Mitch Metcalf
MITCH METCALF has been tracking every US film release of over 500 screens (over 2300 movies and counting) since the storied weekend of May 20, 1994, when Maverick and Beverly Hills Cop 3 inspired countless aficionados to devote their lives to the art of cinema. Prior to that, he studied Politics and Economics at Princeton in order to prepare for his dream of working in television. He has been Head of West Coast Research at ABC, then moved to NBC in 2000 and became Head of Scheduling for 11 years.