The AUDIENCE MAP series continues with a look at the detailed demographics for broadcast network situation comedies.  As a reminder, the audience shares for 30 distinct gender-age groups are displayed for each program below.  Programs in the chart are ranked by network and by overall audience size.  The number of regularly scheduled telecasts is noted after each program title (the numbers of originals and repeats in the season average so far).
Still the brass ring of all television genres, the situation comedy offers the potential for a huge payday in syndication to the cream of the crop.  Also, comedies still repeat better than dramas and reality shows do, so networks can amortize the license fee over more telecasts.  And finally, advertisers love comedies and are willing to pay a premium "CPM" (the cost per thousand viewers reached, the price paid for TV commercials) for them because comedies tend to skew young and often upscale and because comedies do not have as much questionable or controversial content that advertisers assiduously avoid (the Achilles heal of harder edge dramas or low-brow reality shows).  That's the dream, at least.  In practice, very few comedies still reach a mass audience, and most are stuck in the land of tiny niches.
CBS has the biggest comedy of course in The Big Bang Theory, whose audience epicenter is found with men and women aged 50-64 (like most of the CBS schedule).  But the 40-49 audience for the show is still very large, and 25-39 segments are in the double-digit share range (which is a huge achievement for any series today).  So despite being much older skewing than A-list comedies in the past (think Friends, Seinfeld, Cheers, Roseanne and Home Improvement), it racks up enough adult 18-49 year olds to tower over the rest.  The rest of the CBS comedy slate has the same basic skew profile, just at increasingly lower levels in each group.  Still a CBS comedy failure would be a bona fide hit on most other networks.
ABC has found a real comedy groove with adults 35-54 and occasionally with teenagers.  Although the best demo micro-segments even for Modern Family don't get much over an 11 or 12 share, the comedies have enough widespread appeal among women and to some extent men to create some success.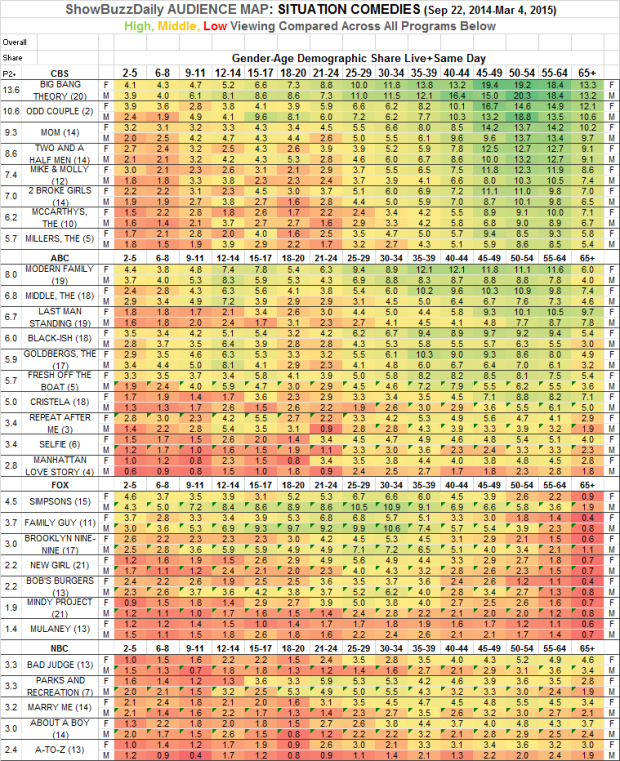 FOX's animated hits The Simpsons and Family Guy, though a shadow of their former selves, still put up nice numbers with males from as young as 9 to around 39, the original bullseye of the upstart FOX network.  Live-action Brooklyn Nine-Nine has done a nice job on Sunday nights trying to fit into that profile.  But the more female-driven New Girl and Mindy Project have simply run their course and aren't left with significant support in really any group.  And Mulaney is perhaps the single narrowest show possible on a broadcast: a lot of red and almost all 1 shares in the micro segments.
NBC comedies aren't as narrow as Mulaney, but there's still time for that.  The NBC comedy with the least red on the chart above Parks & Recreation is not coming back, so it becomes even harder to build any comedies with demo segments that reach into the green zone of even a 7 or 8 share.
In coming weeks, look for Audience Maps for reality programs, cable dramas, kid and teen programs, and more.
Also, check out other AUDIENCE MAP posts.
About the Author
Mitch Metcalf
MITCH METCALF has been tracking every US film release of over 500 screens (over 2300 movies and counting) since the storied weekend of May 20, 1994, when Maverick and Beverly Hills Cop 3 inspired countless aficionados to devote their lives to the art of cinema. Prior to that, he studied Politics and Economics at Princeton in order to prepare for his dream of working in television. He has been Head of West Coast Research at ABC, then moved to NBC in 2000 and became Head of Scheduling for 11 years.