The AUDIENCE MAP series continues with a look at the detailed demographics for CBS's primetime schedule for this season to date.  As a reminder, the audience shares for 30 distinct gender-age groups are displayed for each program below.  Programs in the chart are grouped by night so you can see the audience flow from 8:00 pm/ 7:00C to 11:00 pm/10:00C.
There is a very simple rule for the television audience: at the age of 45 turn into a CBS fan and then at age 55 become obsessed with CBS.  The network certainly knows and caters to its older audience, which is fairly well balanced male and female on most nights.  NFL football provides a nice infusion of younger viewers (mostly men 18-44), but the rest of the schedule doesn't get more consistent than this.
How does your favorite CBS show look? Check it out below.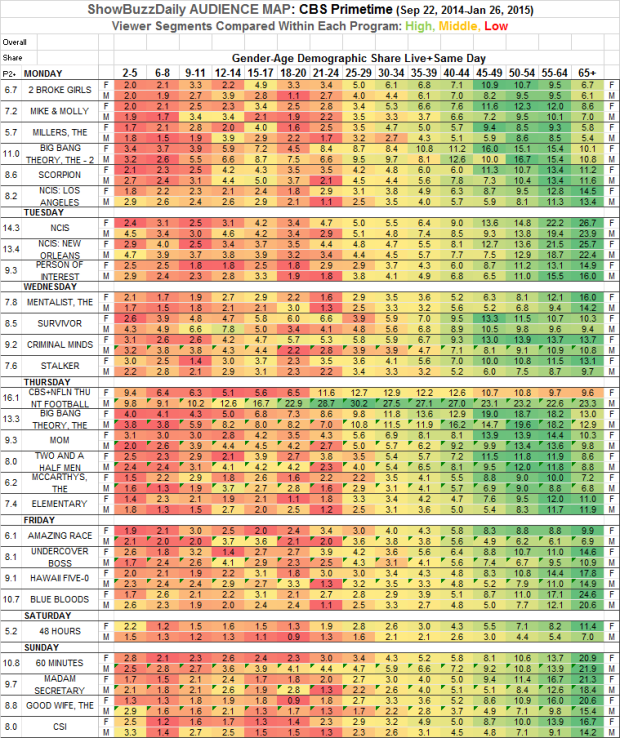 The chart above color codes the audience segments by comparing the viewing levels within each show.  The highs and lows of each show are colored green and red, and a hit show's red box could be yellow or even green on a struggling show.  In contrast, the chart below takes a wider view and compares all the viewing levels of all the CBS shows against each other.  The greens boxes below display the highest audience shares across the entire CBS primetime schedule.  The data in both charts are the same — the color comparisons are just presenting different angles.  Use the one that best meets your needs or preferences.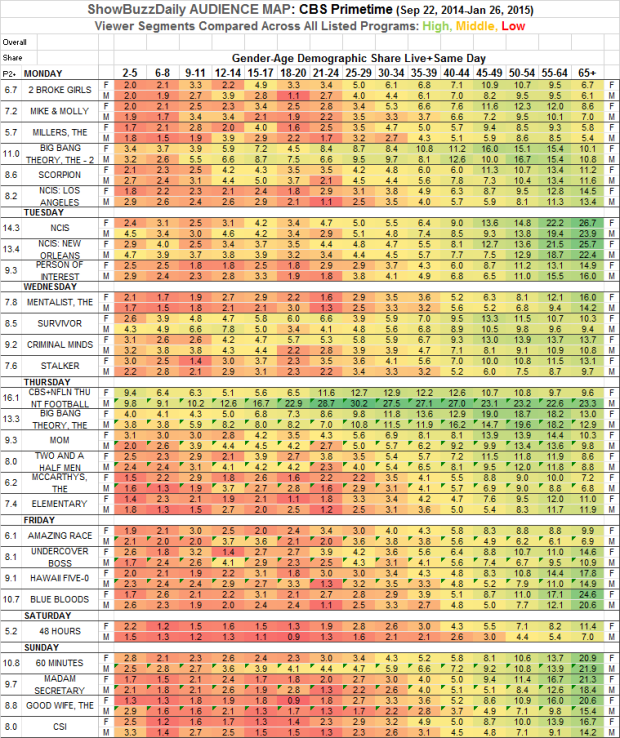 Coming next week: AUDIENCE MAP for FOX primetime.
Other AUDIENCE MAP posts can be found here.
About the Author
Mitch Metcalf
MITCH METCALF has been tracking every US film release of over 500 screens (over 2300 movies and counting) since the storied weekend of May 20, 1994, when Maverick and Beverly Hills Cop 3 inspired countless aficionados to devote their lives to the art of cinema. Prior to that, he studied Politics and Economics at Princeton in order to prepare for his dream of working in television. He has been Head of West Coast Research at ABC, then moved to NBC in 2000 and became Head of Scheduling for 11 years.