The AUDIENCE MAP feature continues with a look across the cable drama landscape over the past 12 months (June 1, 2o14 to May 20, 2015).  The programs are arranged by network, ranked by overall audience size within each network's slate.  The audience share for each of 30 gender-age subgroups is noted for each show, with each audience group color-coded as above average across all cable dramas (dark green) to average (yellow) to below average for cable dramas (deep red).  Only original episodes are included in these averages, with the number of telecasts in the average noted next to the program title in parentheses.
A&E, AMC and FX are summarized below, with The Walking on Dead on AMC defining the gold standard not just for cable drama, not just for broadcast and cable drama, but for all scripted programming on all sources.  Around a 25 share for each of the male 12-34 demo groups?  A 21 share with the female 15-29 groups and nearly a 20 share with men 35-44?  In 2015?  Amazing.  American Horror Story on FX delivers strong double-digit shares with females 15-24, while Sons of Anarchy in its final season averaged a very good 10 to 11 share with the male 21-44 groups.  Better Call Saul on AMC hit a double-digit share with men 21-24 and settled for a 7 to 8 share with men 25-34.  The rest of the dramas on the networks below fall into the more undistinguished territory of low single-digits across the board, with The Americans about the most narrow cable drama despite major critical support.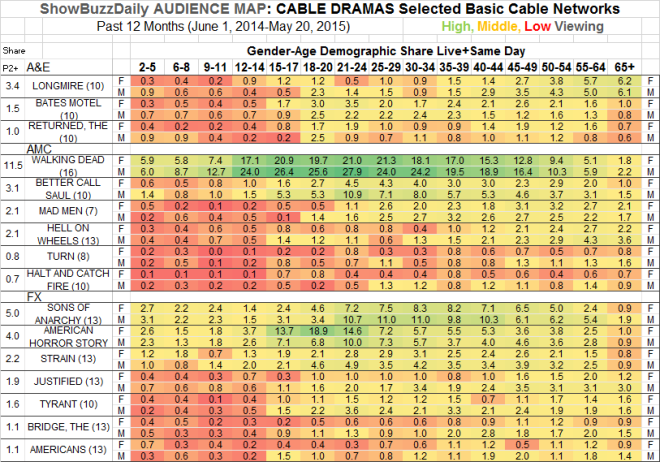 HBO & SHOWTIME: Game of Thrones is the class of the premium cable channel dramas, with solid double-digit shares in each male 21-44 segment.  True Blood approaches a 7 to 8 share with adults 30-44.  But the other HBO dramas and all the Showtime dramas are quite narrow, with maybe a 3 share in selected micro-demographics, at best.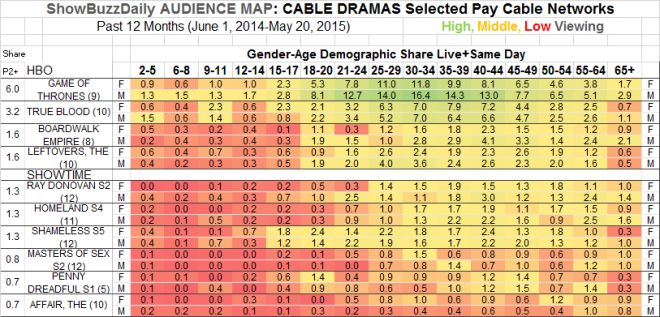 TNT and USA air many original dramas, winning few awards and garnering little respect from critics.  In terms of corralling an audience, the results are mixed at best.  Rizzoli & Isles and Major Crimes on TNT peak at an 8 share with women 55+, while The Last Ship delivers 5 to 7 shares with men 40+.   But the other TNT dramas and all the USA dramas have fairly small audiences across the board, here and there peaking at a 2.5 or 3 share with a micro-demo or two.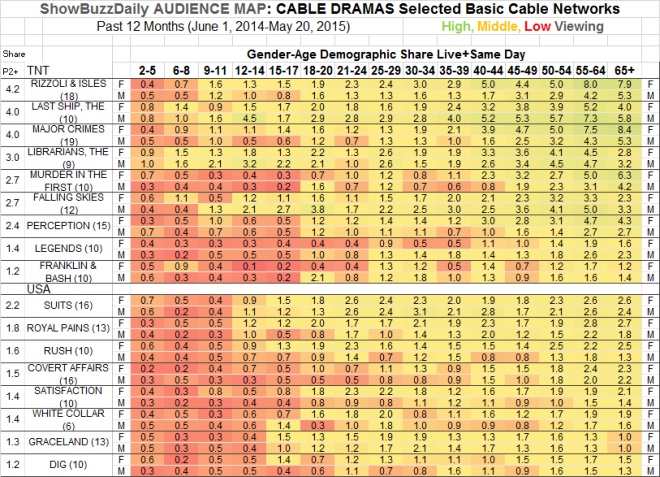 Other AUDIENCE MAP posts, including the full season summaries for the other broadcast networks, can be found here.
About the Author
Mitch Metcalf
MITCH METCALF has been tracking every US film release of over 500 screens (over 2300 movies and counting) since the storied weekend of May 20, 1994, when Maverick and Beverly Hills Cop 3 inspired countless aficionados to devote their lives to the art of cinema. Prior to that, he studied Politics and Economics at Princeton in order to prepare for his dream of working in television. He has been Head of West Coast Research at ABC, then moved to NBC in 2000 and became Head of Scheduling for 11 years.